Assistant OOO
Assistant Settings
Out of Office
Assistant Working Hours
When your company is temporarily closed for a holiday, conference, or an unexpected event, you can activate the Assistant Out of Office (OOO) setting to inform leads or contacts that you are temporarily closed for business. When the Out-of-Office setting is enabled, leads who respond while you are away will automatically receive a custom out of office message. When your Revenue Digital Assistant™ (RDA) returns to the office, their conversations will pick up right where they left off.
When to Use It
Company holidays: your business is closed for state or federal holidays.

Example: "Our office will be closed for Memorial Day so our team can spend quality time with their families celebrating. You will hear from us when we reopen on Tuesday, May 26th."

Events or operational reasons: limited availability during conferences, events or kick-offs

Example: "We're having our annual Sales kick-off on May 18th -19th. We'll have limited availability during this time. We appreciate your understanding and look forward to connecting with you on May 20th."

Unexpected situations: equipment or system outages, region/country-specific shutdowns, and pandemic related closures.

Example: "We are currently closed as we clean and disinfect our showroom in accordance with CDC guidelines. We'll be open for business on Monday, May 29th. We look forward to seeing you soon."


How to Activate the Assistant Out of Office Setting
User Permissions: Users that have a profile with "edit" access for Assistant Settings permissions will be able to activate the Out of Office setting.

Follow these steps to activate:
From the Conversica Dashboard, navigate to Settings > Assistant.
Click Set Out Of Office.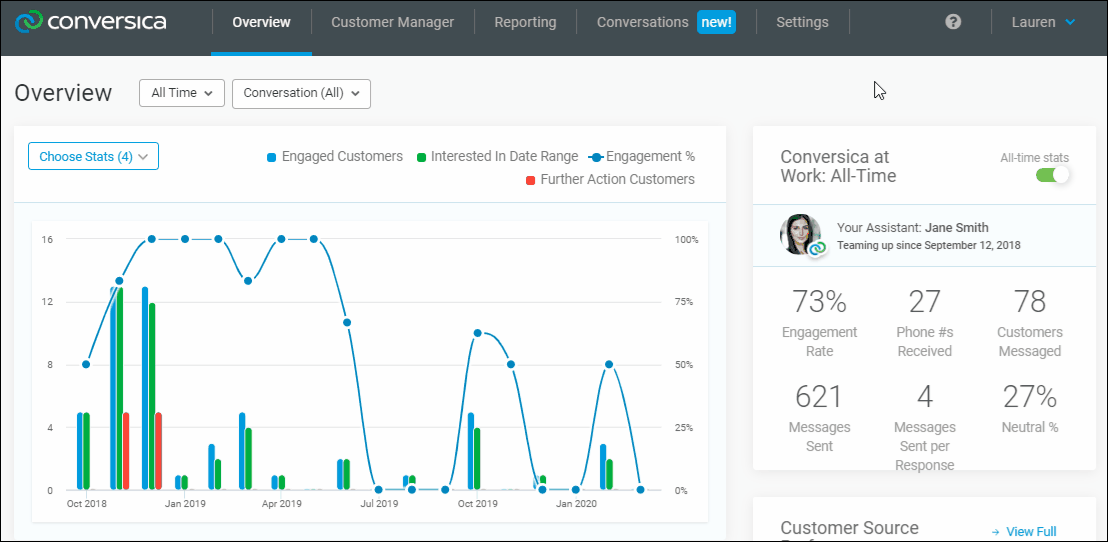 Enter an Out Of Office Message with the text of your choice.
Enter a Start Date and End Date.
Click Save. Once activated, the current status will display On. When the End Date passes, the current status will display Off.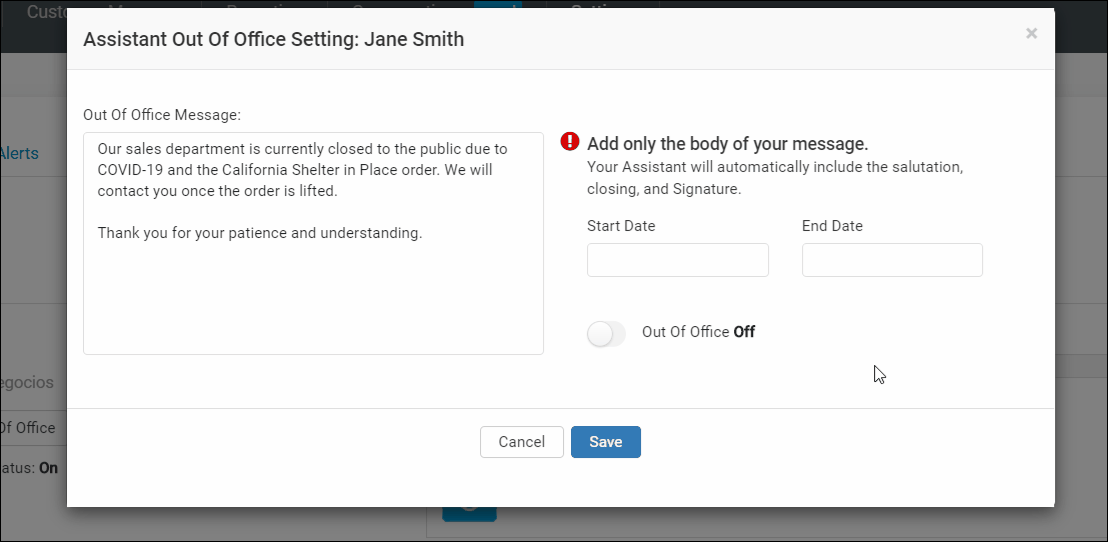 FAQs
Q: Can I set an Assistant Out of Office message when my Assistant is on holiday?
A: Yes. Revenue Digital Assistants do not message leads on default holidays. If you want an RDA to send out of office messages over a default holiday, follow the steps above to activate Assistant Out of Office.

Q: What will the subject line of the OOO message be?
A: The last subject line used in the Revenue Digital Assistant's engagement will be used in the OOO message.

Q: If I have multiple Revenue Digital Assistants, can each assistant have their own Out of Office message?
A: Yes, each RDA has the ability to have their own custom OOO message set.

Q: What happens when the OOO period is over?
A: All conversations that were started before the OOO period will pick up right where they left off.

Q: What happens to new leads that arrive in Conversica during the OOO period?
A: Conversations will be scheduled to begin when the OOO period is over.

Q: Can I insert a link or additional email in my Revenue Digital Assistant's OOO message?
A: Yes, if needed you can insert additional email information or a link to the OOO message.