Whether you are new to Conversica or just want to refresh your knowledge, Conversica Essentials has all of the key training content you need to be successful.

Conversica Essentials is home to Conversica training videos. Hosted on YouTube, the channel contains various playlists designed to help you get the information you need, fast.
How to Access Conversica Essentials
Conversica Essentials can be easily located on Youtube. Once you have located the channel, the homepage will display all of the available videos and playlists.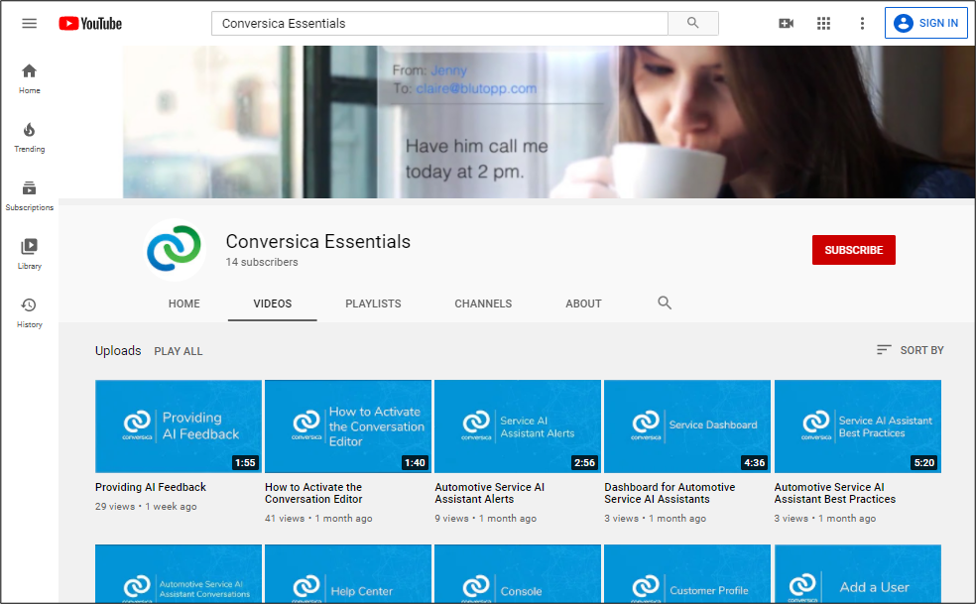 Playlists
Use the table below as a guide to content currently available in each playlist:

Playlist Title
Training Videos
Alerts

Understanding Conversica Lead Statuses
Email Alerts Overview

Dashboard

Dashboard Feature Tour
Day in the Life of a Rep: Navigating Conversica's Dashboard
Available Dashboard Reporting for Managers & Admins
Reporting Overview for Group Dashboards
Lead Source, Lead Quality and Rep Performance Dashboard Reporting
Bulk Lead Actions
How to Save and Share Custom Reports

Lead Manager

How to Import Leads into Conversica Using the Lead Uploader
How to Reply as Assistant and Forward from Assistant
Accessing and Navigating the Lead Profile
Lead Manager Beta
Stop Messaging: How to Stop a Conversation for a Lead
Bulk Lead Actions

Conversation Tools

How to Customize Conversations with Conversica's Conversation Editor
Conversica Answers
How to Send Out of Office Messages with Assistant Out of Office
Get Notified About Alternate Contacts with Contact Mining
How to Activate the Conversation Editor
Providing AI Feedback
How to Schedule your Conversations with Conversica's Schedule Editor
How to Activate the Schedule Editor
Lead Status Management Tool
How to Customize Email Subject Lines
Customizing Conversation Timing and Attempts

User, Profiles, and Team Settings

How to Add a User
How to Delete a User
How to Add a Team
How to Add a New Profile
Changing User Settings: How to Manage Your Alerts
How to Activate the Schedule Editor

Automotive Sales AI Assistant

Meet your Automotive Sales AI Assistant
Understanding Conversica Lead Statuses
Accessing and Navigating the Lead Profile
How to Reply as Assistant and Forward from Assistant
How to Provide AI Feedback
Dashboard Feature Tour
How to Schedule Your Conversations with Conversica's Schedule Editor
How to Activate the Schedule Editor
Automotive Sales Assistant Demo

Automotive Service AI Assistant

Meet your Automotive Service AI Assistant
Automotive Service Customer Statuses
Accessing and Navigating the Customer Profile
Automotive Service AI Assistant Alerts
Dashboard for Automotive Service AI Assistants
How to Reply as Assistant and Forward from Assistant
Automotive Service AI Assistant Best Practices
Automotive Service AI Assistant Conversation Overview
Providing AI Feedback
How to Schedule Your Conversations with Conversica's Schedule Editor
How to Activate the Schedule Editor
Automotive Service Assistant Demo