In this article, we will discuss the steps you should take to ensure we are working your leads in the best possible ways:
Step 1: Evaluate How You're Targeting Your Lead Segments
Your first step is to evaluate how you're identifying leads to add to each Conversica conversation type. Do the backgrounds of your leads match the background descriptions in our articles? Are your goals in line with what the conversation is offering? Are you suppressing leads based on certain qualities like the following?
Previously bounced when emailed by your MAS or reps
Previously opted-out or marked your emails as spam
Created Date is more than 2 years ago or Last Activity Date is more than 100 days ago
Recently or currently disqualified by a rep
Currently associated with an open opportunity
Current Customers
Partners or Resellers
Target accounts or accounts outside of your ICP
Step 2: Study the Lead Quality Report
Your second step is to study the Lead Quality Report under the new beta reports in your Conversica dashboard: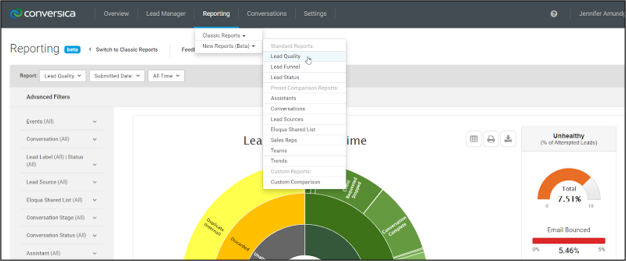 On the right, you can see our thresholds for healthy leads. We know that no one has 100% healthy leads in their various systems, but there is a point at which it is too risky to continue emailing low-quality leads. This point is indicated on the right-hand side of each health scale (ie no more than 5% of your overall lead volume should bounce and no more than 0.5% should get marked as spam). In other words, if you see red, you know that something needs to be addressed.

It is very likely that all you need to do is nurture a specific segment of leads first before reaching out to them through Conversica. When leads bounce, unsubscribe, or mark our emails as spam, they're communicating to us that they are not sales-ready, and therefore not ready for Conversica, either. They are, however, probably perfect for your Marketing Automation System. This is your opportunity to leverage your MAS to warm up your leads by further educating them about your product or service. Your Marketing Automation System should allow you to send content-rich emails full of images and links; this is ideal for educating your leads. Often leads that you nurture this way can be driven to consume your content from your site or to attend your events. In this way, you can use your MAS to drive leads to take actions that will cause them to MQL organically and be ready for Conversica outreach. This is the ideal situation.

We understand that not all situations are ideal. If you don't have a MAS, you could look into using a free/cheap solution like MailChimp for manual uploads or even use Conversica to drive your leads to consume your content or attend your events with our Drive Action Standalone conversations. If you choose to use Conversica to drive content consumption instead of Sales conversations, you must filter out/suppress emails that have bounced or DNEd previously and those who opted in to your outreach more than 270 days ago.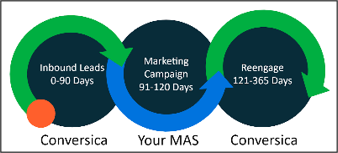 If you use MailChimp or Conversica to drive content consumption but don't have a good way to track consumption to prompt immediate follow-up, then you should set up a cadence of adding these leads into Conversica every couple months with a Sales Attempted Contacts or Dual Outreach type of conversation that refers back to the nurturing emails you sent through Mailchimp, etc.

Step 3: Identify Low-quality Lead Sources
Your third step is to identify a common source or list/campaign contributing the lowest-quality leads. Start by focusing on the metrics that are red or most concerning. Hover your mouse over the red bars. Then click on View Leads to see if they have a common Lead Source value or campaign name. If you're able to identify a common source, you'll need to weigh the pros and cons of continuing to reach out to those leads and consider putting them through a MAS nurture stream before adding them back into Conversica.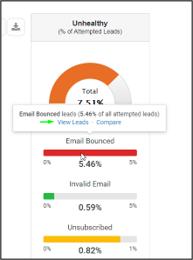 You could also click on Compare to see unhealthy metrics across conversations, lead sources, client lists, etc in order to see which ones contribute the most unhealthy leads. Percentage metrics can also be chosen from the comparison report to identify contributors on a relative basis; e.g. which lead source has the highest % of leads unsubscribe.

If you have a high number of bounces from a paid source or a partner, you might consider reaching out to that partner and asking them for compensation, exclusivity, or fresher leads.

Step 4: Create Your Plan for Improving Lead Health
Once you have completed the above 3 steps, you should reach out to your CSM to create a plan for improving your Lead Health performance. As you create your plan for improving Lead Health, note that different metrics can indicate different strategies.

"Email Bounced" indicates any or all of the following:
A temporary issue such as the user's mailbox is full. Note that when Conversica encounters a temporary issue, we will retry delivery up to 3 times before considering the email a hard bounce.
A permanent issue such as the mailbox not existing. For example, if someone enters an email address like "asdfasdfg@asdgfasdfasdf.com" to get past a web form and access your content.
The user's mail server has classified the sender as a spammer and refuses to accept their messages.
A high rate of bounced email addresses typically indicates very old or very busy leads and we recommend that you either call them or simply disqualify them. If these leads were acquired recently for cost, you could download a report of them and seek compensation from the source. We can send a case to get you a breakdown of hard vs soft bounces to see if we can further identify what is causing bounces.

"Invalid Email" means that our third-party validation platform, FreshAddress, has identified your lead as too risky to email. If you have a high percentage of Invalid Emails, we can explore options for adjusting risk settings. Read more in our Help Center.

"Unsubscribed" indicates:
Emails are being sent to leads who haven't asked or don't remember asking to be contacted by you.
Leads haven't opted into receiving emails from you recently.
Our email content is inaccurate or feels irrelevant.
Leads are receiving too much outreach from your brand.
For leads with addresses provided by Gmail, this can also indicate that your lead has marked our email as spam. Gmail automatically unsubscribes users who report spam, and they send the complaint to us as an unsubscribe request.
A high rate of Unsubscribes typically indicates that the leads we're working are either too old or are receiving too much contact from your brand. We recommend that you evaluate all outreach efforts to these leads and consider pausing all nurture, drip, and phone outreach while Conversica is active with these leads. You could also consider setting a younger maximum age from opt-in. Finally, you should compare the content of our emails with the data you have for these leads to make sure that the emails we're sending to them reflect what you know about them as well as reminders of who you are and your value proposition or competitive advantage.

"Marked as Spam" means that your leads are indicating to their email providers that our emails are spam. Sometimes this can indicate that the data we're receiving isn't accurate. We are able to ignore lead names in your data if, for example, your reps are making too many typographical errors or your leads are entering false names in order to access your content. In this case, our emails would be addressed with generic greetings that don't require a lead name. It is crucial that the data we use be as accurate as possible to avoid generating spam complaints that compromise your domain.

"Do Not Email" means your leads are taking the time to send personal notes to your AI-powered assistants to request to be removed from your list. This indicates that they believe your AI-powered assistant is a human and respect your brand (this two-way dialogue actually helps to protect your domain), but just don't want to be marketed to any further. You should treat these as you do an Unsubscribe/opt-out/Do Not Email request and remove this lead from all of your other marketing and sales efforts. Conversica will add this email address to our internal suppression list for your account and will not email this lead at this address again on your behalf.
We're in this together!
When you hire one of our Revenue Digital Assistants™, we become partners and we will do everything we can to flag for you opportunities to improve your success. We all prefer if these opportunities come in the form of hot leads who want to speak with Sales, but often we are also able to point out opportunities to clean your data (were you recently hired and inherited a dirty or suspect CRM? Do you need evidence to demonstrate that a serious cleansing is required?) or improve your workflows (are there multiple points of leakage in your funnel? Are you wondering why leads from Content Syndication or a vendor just don't seem to perform well?) or protect your domain (ever wonder why your customers report that your emails are going to their Spam folders or are placed in a less-prominent folder in their email browser?). Each of these pieces are critical to our joint success and your success overall.

As we reach out to engage your leads and contacts, we can do so at a pace that far outstrips what your humans ever could (ie 2 BDRs can handle -- at best -- 3,000 contacts per year; a single Conversica Revenue Digital Assistant could easily and adequately handle that volume in less than a week). Thus, if we're reaching out to unhealthy leads, your domain will feel the impact of this much faster and earlier than if your humans alone reached out. As a good partner, we will alert you when we see signs that you need to take action to avoid the negative consequences of emailing low-quality leads. At a minimum, we need to offset the bad with the good, so we recommend that you never have more than 25% of your weekly lead volume constituted of cold or low-quality leads. It is possible, though risky, to continue working lower quality leads as long as the majority of the leads you work are high quality.

Inherent in partnering with you is a commitment to sharing the risk and remediation process together. Because we ask you to create a subdomain off of your main domain, the negative impacts of working low-quality leads can hurt the reputation of your core domain. Because we send and receive emails on your behalf, we have to be careful to mitigate negative impacts for us, too. Therefore, both enterprises must commit to improving and maintaining lead health. Customers who continue to have Lead Health metrics in the red without taking steps to improve this will be asked to take on more of the risk in engaging these leads by setting up their own email sending via SMTP.

Correcting Lead Health issues should improve how emails from your domain are presented in your leads' Inboxes because mailbox providers are more likely to classify sending domains as spammers when recipients aren't engaging, and that ends up hurting your inbox placement and long-term engagement rates. As we work to improve lead health, we'll improve your overall inbox placement, your data, and your ROI with Conversica. Obviously, we want to improve your ROI with Conversica and we want to improve your ROI with all of your other marketing efforts as well. Now, let's make some money together!