Website Chat
Chat
knowledge center
This feature is currently only available for non-Automotive RDAs.
As leads and customers visit your website, wouldn't it be great if one of your Revenue Digital Assistants™ were there to greet them and provide instant assistance?

With Conversica's Website Chat communication channel, it's easy to have a dynamic, Powerfully Human web engagement experience - powered by both NLU and NLG - to answer just about any question a visitor asks. effectively engage your website visitors.

Conversica Chat enables your Revenue Digital Assistant to:
Have authentic real-time conversations reacting and responding to complex and free-form questions.
Be trained on your dataset to deliver verbatim responses
Use a Small Talk model to answer uncommon questions while keeping the web visitor focused on your desired outcome
Kick off a conversation with a web visitor with the intent of:

capturing contact data
connecting the visitor with the information they need
answer questions that help them progress to the next stage
connecting to a rep for a demo or support

Capture questions and provide clients with insights to evolve and adapt their fact base
Direct customers to learning or support resources.
Reduce marketing funnel leakage.
How does it work?
When a visitor clicks the chat icon in the lower right corner of your site, a chat window appears to help guide them to the answers they need. Your Assistant will provide a true conversational experience where the visitor can ask any question about the brand and the RDA will guide them through a conversation. Based on the question that is asked, the RDA may decide to capture additional information like name and email address so that a lead can be captured/created in your CRM or MAP and followed up later with asynchronous email communication based on their online conversation. You will notice that there are no quick reply buttons to try and steer the conversation into predetermined flows.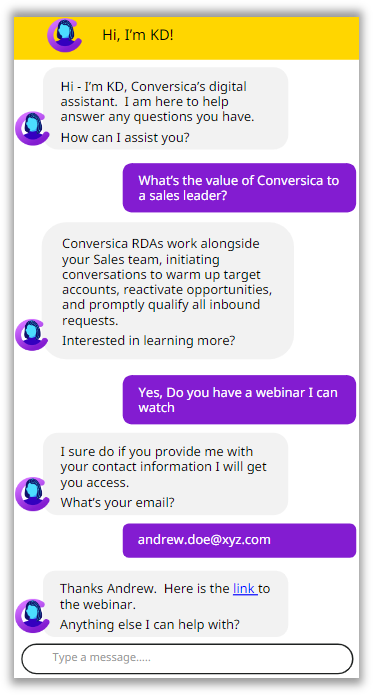 Example chat prompts include:
"I'm looking for resources to learn more."
"I'd like to schedule a demo."
"I'm a customer and need support."
"Something Else"
As the visitor inputs what they need assistance with, your Revenue Digital Assistant quickly identifies the best response to serve. Whether the question is brand related or off-topic the Digital assistant will try to politely answer them and urge them to return to the business topic.
If the visitor needs additional assistance, your Revenue Digital Assistant will ask for the visitor's name and email address so a team member can follow up.
Based on the set up your Revenue Digital Assistant will follow up with the lead via email (if provided) after the online chat conversation is over and ensure it follows up with their previous query and qualifies them to meet a sales representative.
Technical Details
Front End

Javascript widget to deploy on client website.
Single domain (additional domains would be upcharge).

Back End Tech

Semantic search for Facts.

Large Language Model for Small Talk.

Conductor and Governance.

Data Ingestion

Includes an automated method to obtain Customer Facts and produce a customer-specific trained semantic search machine-learning model.

Lead Capture

Multiple forms of lead capture. You can choose between 1 or 2 ways to capture lead information.

web overlay form (multi-click to submit)

conversational capture ("

Tell me your name and email address…

")

Integrations

Data captured for Leads via chat will be written to customer CRM like Marketo or Salesforce.
The complete chat conversation history between visitor and assistant will be captured into customer CRM.
Context or Category will be passed along with the Captured lead info. This will provide a way for customers to automate downstream automation workflows (with Marketo etc.)

Other Visibility into Dash

Conversation History, Lead lists, etc.

Configuration to automatically trigger Outbound RDA email conversations

Basic Reporting - # of visitors, # of interactions, Lead capture fallout, Leads by context, etc.

Other Considerations

English Only (other languages to come soon)

Links must be embedded in Facts (for calendaring, references, more info, etc.)
FAQ
Q: Can I capture lead information from website chat visitors in my CRM or MAS?
A: Yes, we currently support integration between website chat and Marketo/Salesforce, and plan to add additional CRM integrations over time. We realize you may have very specific opt-in rules and we will work with you to leverage this new capability in a way that honors your specifications.
Q: Is your website chat capability available in other languages besides English?
A: Although Conversica plans to continually evolve the capabilities of our website chat solution over time, it currently is only available in English only.
Q: Does your website chat capability adhere to GDPR requirements?
A: Yes, as with the rest of Conversica's platform we adhere to a strict privacy policy detailed at https://www.conversica.com/privacy-policy/ and https://www.conversica.com/privacy-shield/, and conform with GDPR data processor requirements as described at https://www.conversica.com/blog/conversicas-support-for-our-customers-compliance-with-the-gdpr/
Q: Does Conversica use ChatGPT?
A: Conversica utilizes a unique, innovative approach to Conversational AI. We combine our own machine learning models along with cutting-edge commercial and open-source models to provide a powerfully human conversational experience. We have been applying GPT models since their introduction 5 years ago. For more information, see our Platform page: https://www.conversica.com/conversational-ai-platform/?utm_source=chat