Website Chat
Chat
knowledge center
This feature is currently only available for non-Automotive RDAs.
As leads and customers visit your website, wouldn't it be great if one of your Revenue Digital Assistants™ (RDAs) were there to greet them and provide instant assistance?

With Conversica's Website Chat communication channel, it's easy to effectively engage your website visitors.

Conversica Chat enables your Revenue Digital Assistant to:
Direct customers to learning or support resources.
Provide answers to basic questions.
Easily convert website visitors into leads.
Assist visitors trying to schedule a demo by providing links to scheduling services (such as Calendly, Chili Piper, Groove, etc).
Collect contact information for current customers who need support.
Reduce marketing funnel leakage.
How does it work?
When a visitor clicks the chat icon in the lower right corner of your site, a chat window appears to help guide them to the answers they need. Your Assistant will provide prompts to help your visitors to navigate your resources or gather their contact information for a human to handle more complex questions -- without the need to fill out a contact us form.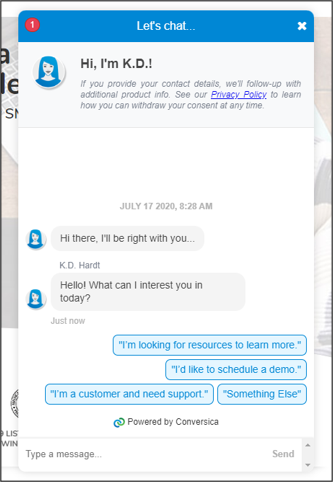 Example chat prompts include:
"I'm looking for resources to learn more."
"I'd like to schedule a demo."
"I'm a customer and need support."
"Something Else"

As the visitor selects what they need assistance with, your Revenue Digital Assistant quickly identifies which direction to take the conversation.

If the visitor needs additional assistance, your Revenue Digital Assistant will ask for the visitor's name and email address so a team member can follow up.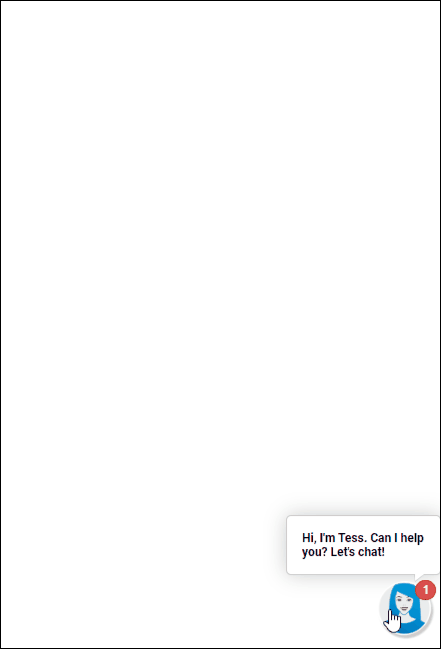 Two days after the online chat conversation, your Revenue Digital Assistant will follow up with the visitor via email (if provided) to ensure they received the support or information they were looking for.
FAQ
Q: When will your website chat capability be available to put on my website?
A: Our website chat capability is currently available for limited beta testing, and will be generally available to all Conversica customers once all testing and validation is complete. Please let your sales rep or customer success manager know if you are interested in participating in the beta.

Q: Can I capture lead information from website chat visitors in my CRM or MAS?
A: Yes, we currently support integration between website chat and Marketo/Salesforce, and plan to add additional CRM integrations over time. We realize you may have very specific opt-in rules and we will work with you to leverage this new capability in a way that honors your specifications.

Q: Is your website chat capability available in other languages besides English?
A: Although Conversica plans to continually evolve the capabilities of our website chat solution over time, our first release will be in English only.

Q: Does your website chat capability adhere to GDPR requirements?
A: Yes, as with the rest of Conversica's platform we adhere to a strict privacy policy detailed at https://www.conversica.com/privacy-policy/ and https://www.conversica.com/privacy-shield/, and conform with GDPR data processor requirements as described at https://www.conversica.com/blog/conversicas-support-for-our-customers-compliance-with-the-gdpr/