Conversica helps you prioritize which leads to contact based on the lead's status.
Prioritize Leads by Conversica Status
Conversica uses clear, actionable lead statuses to help you identify which leads to contact first. It's a best practice to follow up on leads based on their status and in the order listed below. Statuses can be viewed from the dashboard or response alerts.

Priority
Lead Status
Details
1
Hot Lead
Conversica has identified this lead as a lead that wants to be contacted. Contact the lead in the Hot Lead window, as this is the best timeframe to convert the lead into a sale. The Revenue Digital Assisstant

™

will follow up to make sure the rep was able to connect.

2
Further Action

(Lead at Risk for those with the Revenue Digital Assistant for Automotive Service)

The lead responded that they have further questions or that they were not contacted by the representative. If the representative can take action regarding the lead's needs, Further Action is applied. The lead is still in need of information and information provided by the lead is relevant for the representative to know.

3
Lead to Review
This lead has responded to the Revenue Digital Assistant with a question or specific request that the assistant couldn't answer. Make contact with these leads so the rep can provide the lead with the information they requested.
4
Other Leads
Work other leads that may require follow up. Use Stars to help quickly locate other leads that aren't Hot, At Risk, or to Review that you want to be able to locate later in the dashboard.
Leverage the Dashboard
Users can easily prioritize leads by following the intuitive layout of the Overview screen, where leads are automatically organized by lead status. Note: The Overview screen layout is different for users with rep permissions and those with Manager/Admin permissions. Both layouts of the Overview screen are presented below:
Overview - Rep
Leads are sorted into queues based on lead status. Queues are displayed in the order in which they should be prioritized
My Hot Leads
My Further Action Leads (Leads at Risk)
My Leads to Review
Other Starred Leads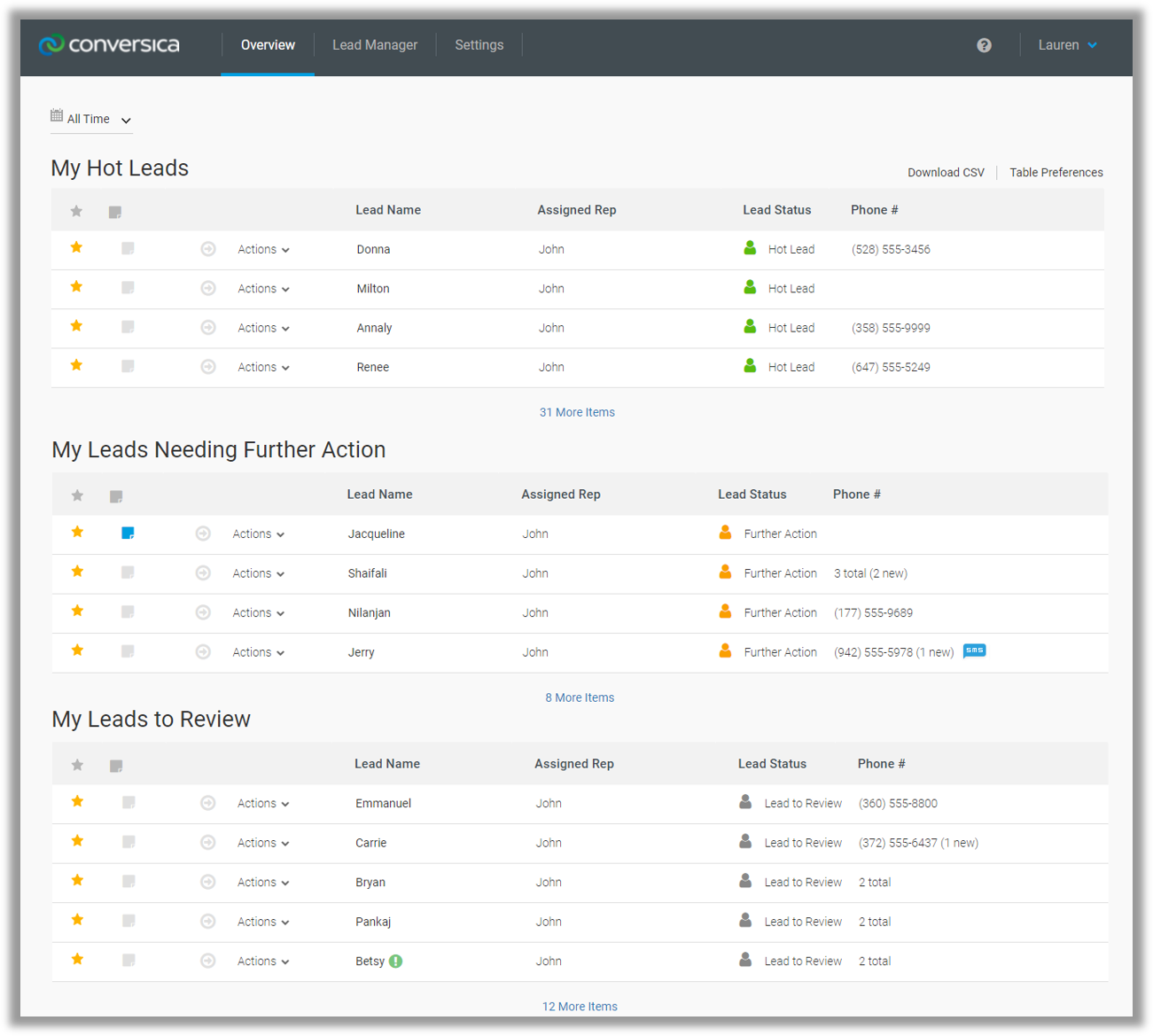 Overview - Manager
Leads are displayed in the leads widget. Click on a tab to view all leads with that status. The order of the lead status tabs is based on priority level.