Conversation Editor
Lead Lists
Campaigns
Manging Lead Lists
Client Lists
knowledge center
Contact lists are the foundation of your customer outreach, as they determine who your Revenue Digital Assistant™ will contact. Read on to learn how to locate, map, and update the status of your contact lists.
Search or Filter Contact Lists
The steps below describe the two methods you may use to locate a specific contact list or user list. If you do not know which conversation a contact list is mapped to, or if have many contact lists mapped, Conversica recommends using the Global Search to quickly narrow your options.
Global Search
From the Conversica Dashboard, click Conversations.
Open the Select Contact List dropdown.
Using the Search bar, enter the name of the desired contact list.
Click on the contact list.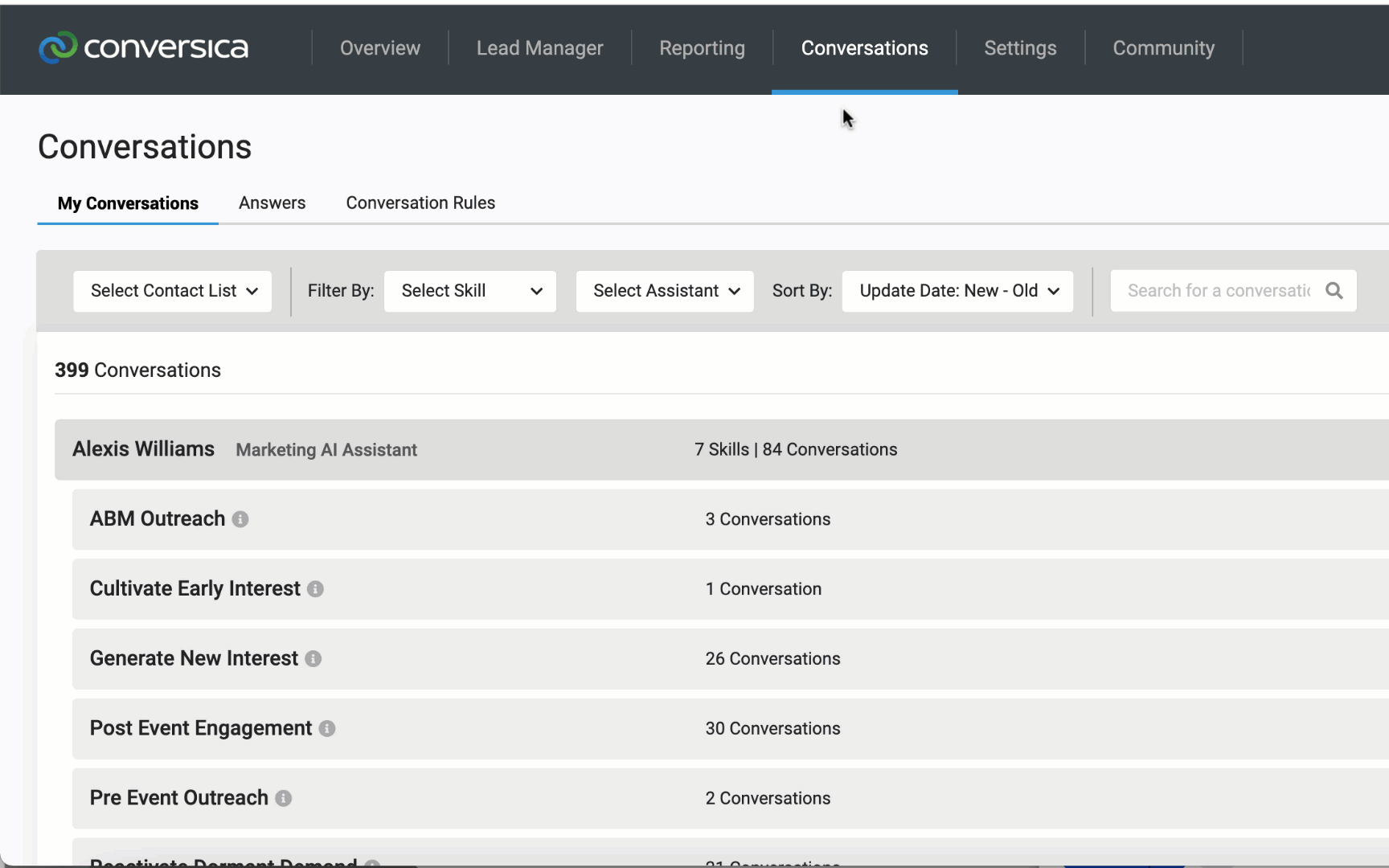 Filter by Conversation
From the Conversica Dashboard, click Conversations.
Hover over the desired conversation to display the related contact lists.
Select the Contact List dropdown.
Click on the desired contact list.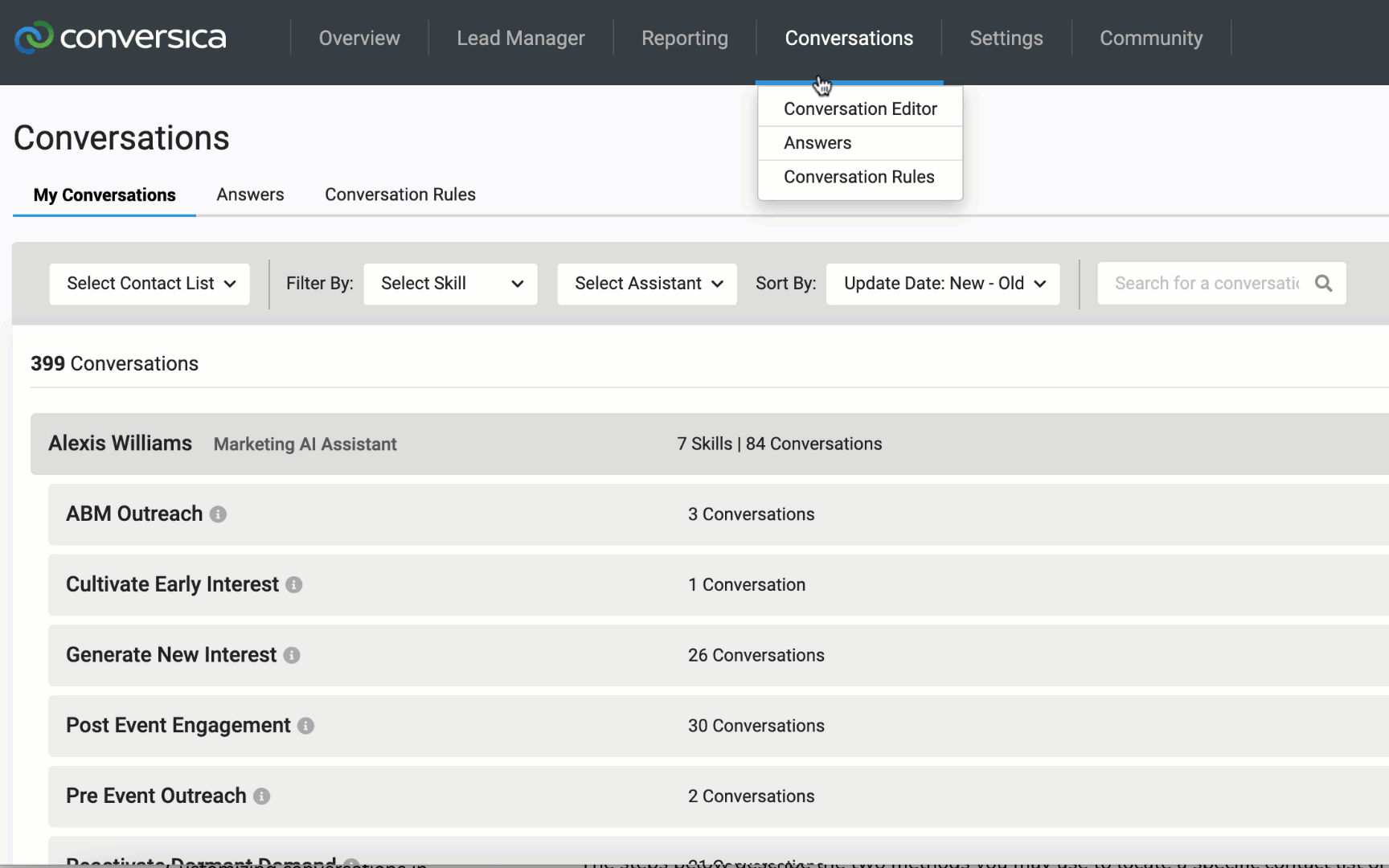 Mapping a New Contact List
You may quickly and easily map a contact list or user list from your integrated system to a conversation from the Conversations page using the steps below.
From the Conversica Dashboard, click Conversations.
Hover over the desired conversation to display available options.
Click Map New.
Enter the contact list ID or Name.
Click Add Mapping.
Note: If the desired contact list is already mapped, that option will be greyed out and [Already mapped] will be displayed following the contact list name and ID.

Understanding Contact List Statuses
Upon being mapped, all contact lists default to the Inactive status. Be sure to make all of your desired edits to the conversation before activating it. For details on how to customize a conversation, see our article on How to Customize your Conversations

Note on Multiple Assistants: If you have multiple Revenue Digital Assistants on your account, you will see the option to assign an Assistant to a specific campaign. Conversica will prioritize which to assign based on the following order:

1. The Assistant that is assigned to the contact list in the Conversation Editor "Assistant" dropdown.


2. The Assistant assigned to the team of the Assigned rep.
3. The Assistant that is assigned to the conversation in the Assistant Settings (only applies to non-default Assistants).
4. The default Assistant (the first Assistant added to the account)

Contact List Statuses
| | |
| --- | --- |
| Status | Definition |
| Active | The contact list is active and leads will be automatically added to Conversica and messaged. |
| Inactive | Conversica will work leads when the contact list is activated. Leads added within 24 hours of activation will be worked. |
Changing the Status of a Contact List

To change a contact list status, or to remove a mapped contact list, follow these steps:
Select the contact list.
Click the Status dropdown.
Select Active, Inactive, or Remove, as desired.
Click Activate, Deactivate, or Remove to confirm your request
Additional Resources
For additional details regarding the Conversation Editor, refer to our Conversation Editor article.