Conversation Status
No Longer at Company
No Longer at Company is a new Conversation Status which adds further granularity to the Revenue Digital Assistant's™ ability to classify leads. An accompanying Lead Status, Disqualified, has also been released to support No Longer at Company.
Benefits
When the Revenue Digital Assistant identifies a contact who has left their company, the conversation is stopped, No Longer at Company is applied to the conversation, and the lead is marked Disqualified.
Leads that are no longer with their company were previously assigned the Lead to Review status. With this update, No Longer at Company and Disqualified work to reduce Lead to Review responses, which allows your reps to better focus on the leads that need their attention.
No Longer at Company empowers you to better manage your contacts by providing a way to easily identify outdated contact records via Conversica reporting or automation within your CRM or integrated system.
Acts as a stepping stone toward future enhancements which will further improve granularity and broaden the scope of the Revenue Digital Assistant's possible interactions.
Example Responses
"[Name] is no longer with the company."
"As of [date], I am no longer with [company]."
"The intended recipient is no longer with [company]."
"I have retired from [company]."
"I have now left [company]."
"My last day with [company] is [date].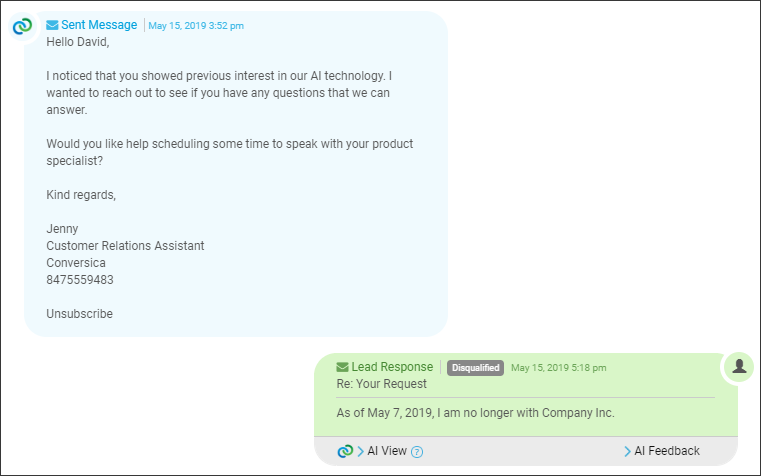 Impacted Conversations
At this time, No Longer at Company has been applied to some of our most popular conversations for Revenue Digital Assistants for CS and Sales but is not available for all conversations yet.
Q: What happens to No Longer at Company responses for other conversations?
A: For other conversations, No Longer at Company responses will continue to be classified as Lead to Review.
Alerts
With the introduction of the Disqualified Lead Status to support No Longer at Company, we are enabling the Disqualified alert type, which can be found in each user's alert settings.

In addition to adding the Disqualified Alert, we will provide visibility for additional alert types related to Conversica's other new Lead Statuses: Further Action, Satisfied (New), and No Further Action. Initially, these options will not prompt any alerts, however, as conversations begin to utilize these new Lead Status options, alerts will be enabled.

Q: Do our reps need to opt-in to Disqualified alerts?
A: Disqualified is not an actionable alert type, so reps typically won't need to see Disqualified alerts. If a user would like to be made aware of Disqualified leads, they have to opt-in.
Integration Changes
To enable these changes, an additional value has been added for both Conversation Status and Lead Status. If you have any automation which references these fields, you will need to update that automation to support these values.
| | |
| --- | --- |
| Conversica Field Name | New Value Added |
| Conversation Status | No Longer at Company |
| Lead Status | Disqualified |
To confirm the Field Name for your CRM or Integrated System, please refer to the links below: