No Longer at Company
Alerts
Contact Mining
Alertnate Contacts
As people come and go, or projects shift, opportunities dwindle when your main point of contact changes. Conversica's solution to make this tricky situation go a lot smoother is Contact Mining. With Contact Mining, Revenue Digital Assistants™ (RDAs) are able to extract relevant details from lead responses when a lead says they are no longer the best point of contact and provides an alternate contact. RDAs share the alternate contact information by displaying it in alerts and on the Lead Profile. Once your team is equipped with alternate contact information, they can focus their attention on better opportunities.

There are two main Contact Mining scenarios:
The lead indicates they are no longer at the company and provides alternate contact information for the correct contact.

Example: "I am no longer working at Company Technologies. Please call Christina Hill at (555) 123-4567 or email her at christina.hill@company.com."

The lead indicates they are not the correct contact and includes alternate contact information.

Example: "I'm not the right person for this. You can call Bill at (555) 987-6543 or reach him at bill.powers@company.com."
How does it work?
As your Revenue Digital Assistant processes a lead's response, they identify when a new point of contact is provided.
Your RDA then extracts the alternate contact information provided, including the name, email address, and phone number.
The identified contact information will now be visible in alerts and the Lead Profile.

Response Alert:

Updated contact information will be displayed in the Alternative Contact Found table.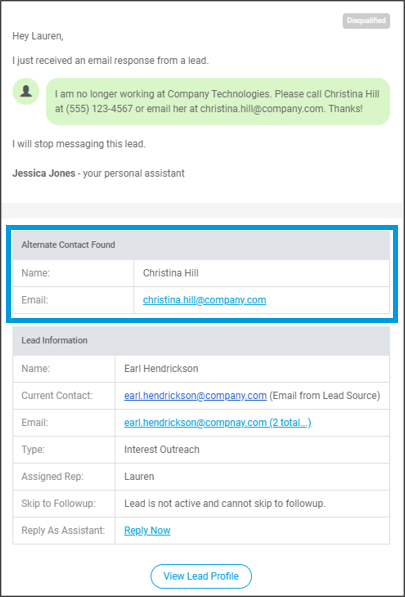 Lead Profile:

The newly identified contact information will be labeled as Alternate Email Contacts and Alternate Phone Contacts.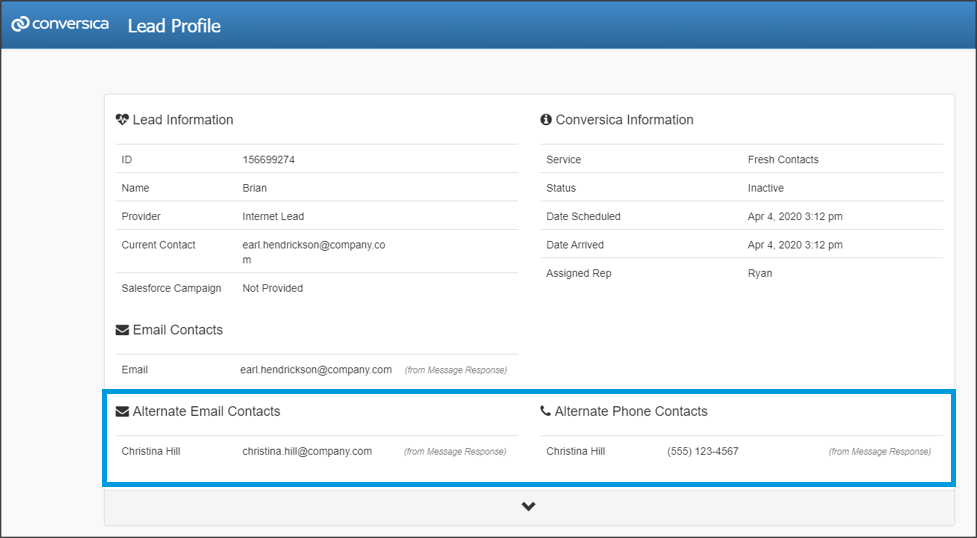 Once you review the new contact information, you can decide how to best reach out to the newly designated contact person.
FAQs
Q: How can I tell which leads have provided additional contact information in the Lead Manager?
A: Leads that have additional contact information mined will have the Lead Status of Disqualified and the Conversation Status of No Longer at Company or Conversation Complete (when they still work at the company but provide a new main contact). Additionally, leads that have additional contact information provided will be labeled with (New) in the Phone # column.





Additionally, you can use the new Custom Report Settings to see how many alternate contacts have been found. To review, use the Leads with Alternate Contact Info view.