5 best practices for sales reps for working with your Conversica Revenue Digital Assistant™ (RDA) to maximize sales opportunities.

1. Optimize Your Email Outreach


Real-Time (0-21 Days)
Let your Revenue Digital Assistant conduct the initial email outreach to engage and qualify leads.
Minimize automated responses sent from your CRM so leads aren't overwhelmed with too many emails during this period.
Drip Campaign (21-45 Days)
Send your dealership's long-term email or marketing campaigns.
Your RDA will be in listening mode during this time; if a lead responds to one of the messages she sent during the Real-Time period, your assistant will start engaging again.
Reengage (45-90 Days)
After day 45, your RDA can leverage the Rolling Reengage conversation to reach back out to leads that never purchased to see if they are still in the market. If you do not have the Rolling Reengage service but are interested, contact your Customer Success Manager to learn more.
2. Streamline Your Process
Streamline your process by incorporating your Revenue Digital Assistant into your daily routine. Your assistant is designed to handle email outreach so you can focus on making contact with phone leads and leads that your assistant has qualified as responsive. Here is how we recommend you streamline your process:
Contact phone leads. Conversica does not conduct any phone outreach, so you are responsible for reaching out to leads with phone numbers. Be sure to introduce your assistant when you call, as she will still be reaching out to these leads via email to gather more information.
Let your RDA contact email leads. Your assistant will alert you when the lead is ready to be contacted. Leads ready to be contacted include Hot Leads and leads with specific questions or requests that require follow up.
Follow Up Process
Role

Lead Has a Phone Number

Lead Has Email Only


General Inquiry

Lead Has Email Only


Question / Quote Request
Sales Rep

Call the lead.

Wait for Hot Lead alert from Revenue Digital Assistant
Answer the lead's question/fulfill their request
Revenue Digital Assistant
Emails lead to gather more info
Emails lead and will alert Sales Rep when the lead is Hot.
Emails lead and will alert Sales Rep when a lead response requires review or the lead is Hot.
3. Introduce your Conversica Revenue Digital Assistant
You now have an RDA working for you who is there to help. When you make contact with a lead, it's a best practice to work your RDA into the conversation so the lead can anticipate her follow up. Below are some ways to introduce your assistant in a conversation: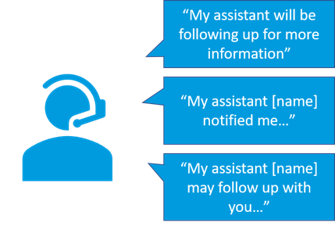 Calls for Your Revenue Digital Assistant
Since your leads think your Revenue Digital Assistant is a human representative, they may ask to speak with her. It's a best practice to pretend she a live representative to avoid embarrassing the lead. Below are examples of responses to use when someone asks to speak with your assistant:

Example Responses
OK to Say:
Do NOT Say:
[Your RDA's name] is not available
She is out of the office
She works offsite
She works out of our corporate office
She's a computer
She's not real
She's a robot
4. Work Your Hot Leads
A Hot Lead is a lead that has been responsive to your RDA's messages and is ready to be contacted. Your assistant will send you an alert when a lead is Hot. It's important to work Hot Leads in a timely manner and contact them during the 48-hour Hot Window. The Hot Window the best opportunity to convert the lead into a sale.


5. Analyze and Manage Leads At Risk
A Lead at Risk is a lead that provided feedback indicating they were not contacted after turning Hot, and/or has additional questions they would like answered. There are multiple reasons why a customer may provide this feedback. Examples are:
The lead didn't receive the rep's phone message or contact was made, but no message was left.
The lead provided a better contact number or time of day to be reached and the rep did not use the preferred number/time.
The lead may have been speaking with reps from multiple dealerships and didn't remember who they spoke with.
The lead was contacted after the 48-hour Hot Window.
The Sales Rep emailed the lead, but the message ended up in the lead's spam folder.
Review your Leads at Risk to see why the lead perceived no contact was made and look for ways to improve your outreach in the future. Continue to reach out to Leads at Risk to get them on the phone and answer their questions.