Conversation Editor
User Permissions
Editing Conversations
Are you ready to start customizing your Revenue Digital Assistant's™ conversations? If you are a Conversica Admin (or Manager with Admin permissions) follow the steps below to easily activate Conversica Conversation Editor allowing new or existing profile members to view and/or edit your current conversations. If you would like to activate the Conversation Editor for a Group Profile, please reach out to Customer Support at support@conversica.com.
From the Conversica Dashboard, click Settings > User, Profiles & Teams.
Select the Profile you want to grant access to.

If you want to create a new profile, follow the steps in this article.

Click Edit Settings.
Scroll to Conversations, and select the permission(s) you want to grant.

Permission Definitions:

Conversation Editor:

View: Use this permission if you have team members that would benefit from better understanding the purpose and flow of your conversations, but don't need to customize them.
Edit: Use this permission to grant users access to viewing and editing all of your conversations.

Schedule Editor:

View: Grants users access to view the timing of your conversations for a better understanding of when each message/attempt will be sent.
Edit: Allows users the ability to schedule a conversation's initial messaging attempt.

Conversation Rules:

View: Grants users access to view the Conversation Rules in place for a better understanding of the routing logic in place.
Edit: Allows users the ability to create and edit Conversation Rules.

Answers:

View: Provides access to view current Conversica Answers.
Edit: Allows users the ability to create, activate and customize Answers.

Click Save Changes.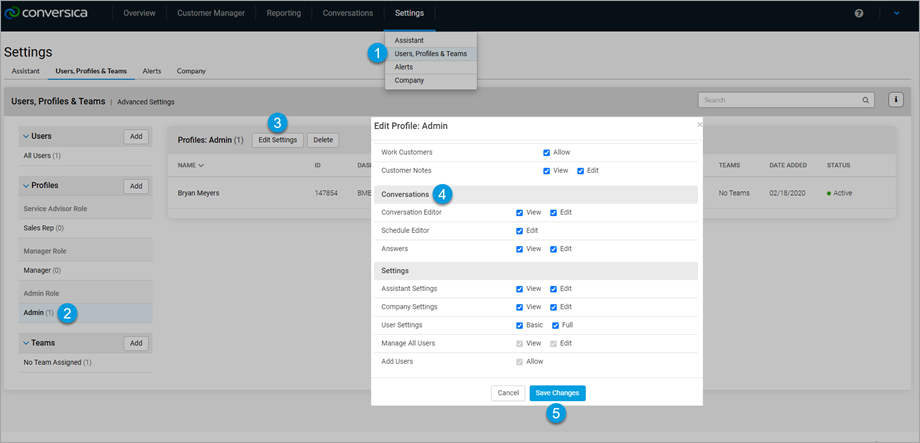 Once saved, the Conversation tab will appear on the Dashboard overview page.

To learn more about how to customize your conversations, visit Conversation Editor: How to Customize your Conversations and Conversation Editor Best Practices.