Settings
Assistant Settings
Businesses can increase their productivity and improve how they manage their leads and conversations by employing multiple AI Assistants. With a second or third AI Assistant, you can assign a dedicated AI Assistant by conversation, campaign/contact list, or team.
How can another AI Assistant help you?
How multiple assistants can help your organization

| Uses | Details |
| --- | --- |
| Differentiate between Product Lines | Promote your different product lines separately by setting up a second assistant that will have their personality. Each assistant can have a unique signature including title, company name, and contact information. This is a great way to improve your communication efforts with your leads/customers. |
| Enhance Customer Lifecycle | Adding another assistant creates a seamless lead transition—providing your customer with the robust outreach they experienced before signing. A Customer Success assistant can help schedule performance reviews, follow-up on survey responses, and much more. You can also add a Finance Assistant to help engage with unresponsive clients. |
| Segment Geographic Regions | Have teams located in EMEA and APAC? What about your teams that are on the East Coast and West Coast? This allows you to localize your assistant's name, title, and contact information. |

How to Edit Assistant Settings
If you have multiple assistants, it's easy to edit their settings in the dashboard by following the steps below:
Go to

Settings

>

Assistant Settings.
Select the assistant that you'd like to edit and click

Edit Assistant. The Edit Assistant window appears.
Edit the assistant's persona as desired by updating the fields below:
First Name
Last Name
Email Account
Phone
Title
Extension
Address
PS
Signature Template
Go to

Lead Handling

to configure how to handle assistant's leads with your other assistants. Leads will not be assigned to this assistant if they have already been assigned to another assistant on the account within 60 days unless another assistant is selected. This guideline helps to prevent duplicate messages.
If you want multiple assistants to be able to work the same assigned leads, go to Lead Handling and select another assistant(s) on the account. This will enable the assistant you are editing to be able to work the same leads as the assistant you selected. Example: In the image below, Alice will be able to work leads already assigned to Julia.
Click

Save

to save your changes.
Repeat these steps to modify the settings for additional assistants on your account.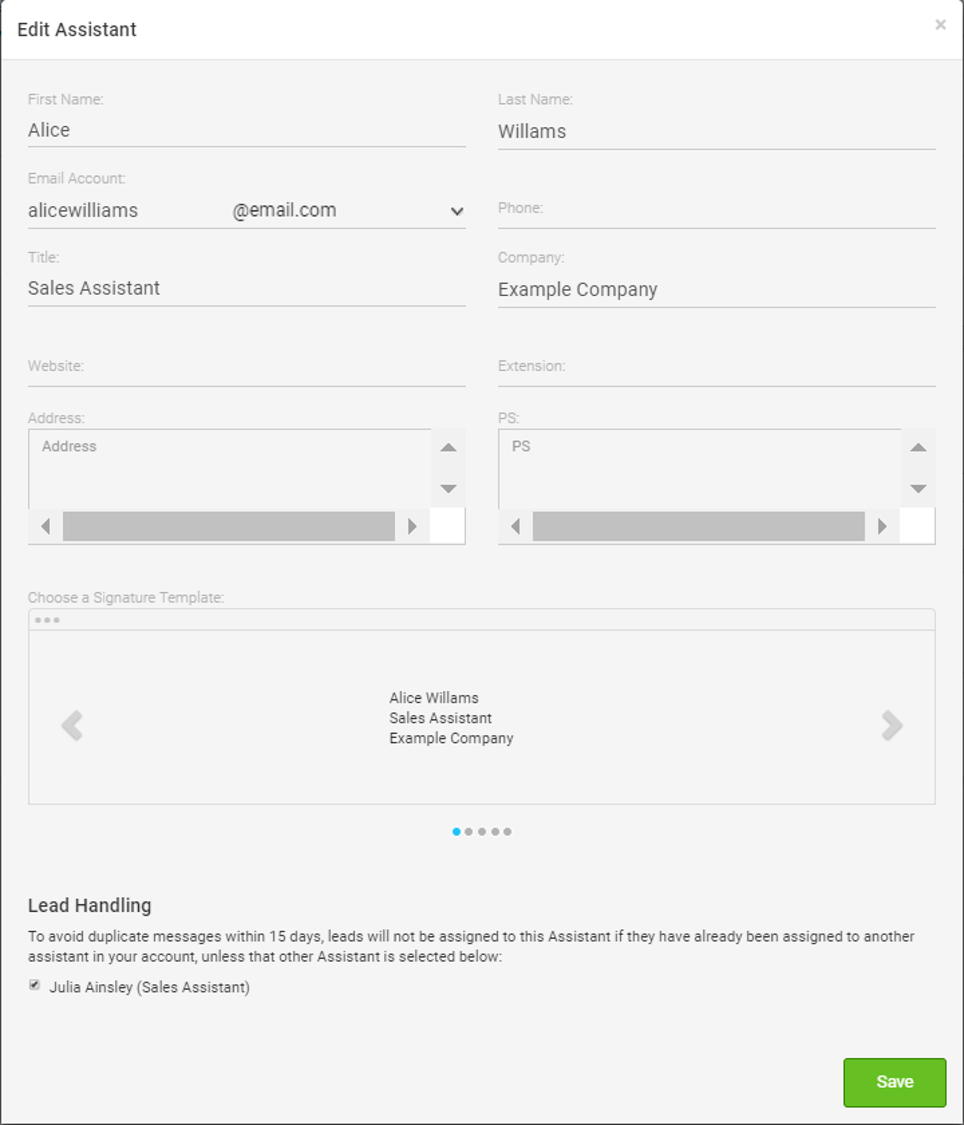 How Conversica will assign the Assistant if there are multiple Assistants on your account.
1. The Assistant that is assigned to the Client List in the Conversation Editor "Assistant" dropdown.
2. The Assistant assigned to the team of the Assigned rep.
3. The Assistant that is assigned to the Conversation in the Assistant Settings (Only applies to non-default Assistants).
4. The default Assistant (the first Assistant added to the account)
FAQ
Q: If I have more than one assistant, can they be configured to message the same leads?
A: Yes, if you have more than one assistant, our standard duplication rules can be bypassed entirely and your assistants can be configured to simultaneously message the same leads within the duplication timeframe. Refer to "How to Edit Assistant Settings" above for instructions.