Conversation Editor
Editing Conversations
Subject Lines
Your Revenue Digital Assistant's™ conversations come with default subject lines that are broad enough to fit conversations for each and every customer. However, we know there may be situations where you would like some flexibility to customize how these subject lines are written.
With the Subject Line Editor, you can take greater control over the subject lines for conversations or individual campaigns that your AI-powered assistant will use to engage with customers.


Here's an example:
Imagine you have a list of cold leads you are targeting with a specific campaign. To help differentiate this campaign from previous campaigns, you can customize the subject line with words or phrases you know will catch your customer's attention and optimize performance.
Conversica provides subject line templates which allows you to make small edits, or create a completely personalized option.
Standard subject lines for this conversation: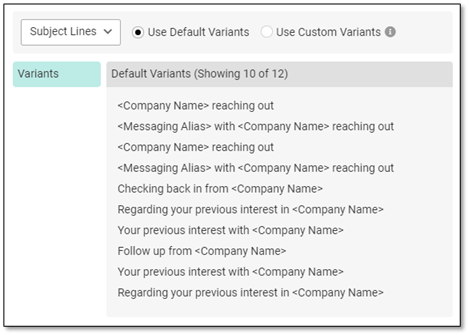 Customized subject lines: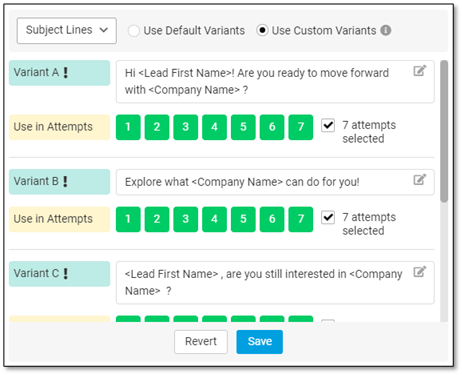 You can modify just one and use a mix of the other pre-populated variants, or modify them all for a fresh approach.

How to Review your Subject Lines Default Variants
From the Conversica dashboard, click Conversations.
Select a conversation to edit the subject line.

To select a specific Campaign or Client List, click the Campaign list drop-down.
Select the desired Campaign/Client List.

Hover over the Assistant's first message and click Review/Edit to open the Messaging View.

Note: Subject lines can only be edited for the first message. The subsequent messages contain the same subject line and are marked with "Re:" for reply.

Hover over the Dynamic Fields drop-down and select Subject Lines.
Select Use Default Variants at the top. This option utilizes the subject lines designed by the Conversica Conversations Team. Examples of the Default Variants will be displayed below.


How to Customize your Subject Lines with Custom Variants
Follow steps 1-4 above.
Select Use Custom Variants at the top. This option allows you to customize the subject line variants. The number of variants presented here should match the number of attempts set for this specific exchange. For example, if there are 5 attempts, you will be able to customize 5 variants.


Click the variant field to edit.

Click the X of the subject line variable to remove it from this variant.

These variables are auto-filled based on your company information. For example; Assistant Name, Company Name.

Type text to add to or customize the subject line.
Click the + sign to add additional variables.

A drop-down of variables will appear that matches the available variables for the conversation that had a limit less than 60 Characters.
The available variables could include (but are not limited to):

Company Name
Content Action
Content Title
Content Type
Customer Reference
Lead Company Name
Lead First Name
Lead Last Name
Lead Position Title
Messaging Alias
Rep Name
Rep Role
Topic
Note: Only variables relevant to the subject line will be available.

Edited variants will be labeled with an exclamation mark (!).

To remove the edits you have made, click Revert.

When you are done making edits, click the Checkmark to save.

To edit which attempts the variant is used, select or de-select the number associated with that attempt.


Once you are done editing the variant, click Save.


Note: If you try to leave the editing window without saving, you will be prompted to either Discard Changes, Continue Editing, or Save Changes.

If you want to remove customizations previously put in place, select Use Default Variants and click Continue.