When your offices are closed for the holidays or team members prepare for vacations, keep these key strategies in mind to help ensure your Revenue Digital Assistant™ is set up for success.

Your AI Assistant's Default Holidays
When your office closes for a holiday, it's an excellent time for your Revenue Digital Assistant to catch a much-needed break! Your RDA does not work on major holidays and other holidays defined by your business.

Conversica recommends aligning your RDA's holidays with your business. In general, Your RDA should not work on days that your team does not work. This ensures that if there is a lead response requiring human intervention, there is a team member available to assist.

For more information about your RDA's default work schedule, please review our Understand Your Assistant's Schedule article.

How to Send Out of Office Messages with Assistant Out of Office

If your office is closed for additional dates this season, you can activate an Assistant Out of Office (OOO) message in the Assistant Settings. When enabled, leads who respond to your RDA while your office is closed will automatically receive a custom out of office message.

The out of office message informs leads that you are temporarily closed for business and helps explain why there may be a delayed response. Users that have a profile with permissions to edit Assistant Settings can create and activate the out of office message.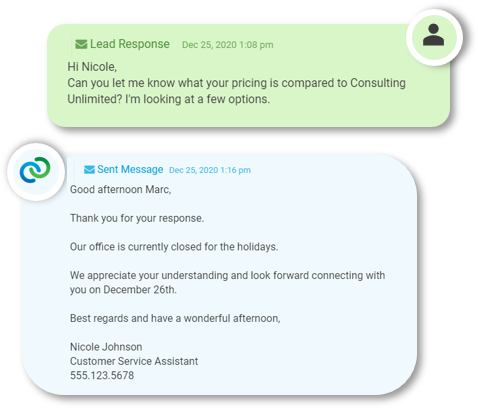 After your AI-powered assistant returns to the office, they'll pick right up where their conversations left off. For step-by-step instructions and to see this feature in action, visit our Scheduling Out of Office Messages for your AI-powered assistant article.

Reps Out of Office?
If you have a rep who will be out of the office, you can set Vacation Days to delegate who will be assigned their leads while they are out. This ensures that no valuable leads slip through the cracks while reps enjoy their time off.

Setting up Vacation Days is easy! In User Settings, enter the dates the rep will be out of the office and select an available colleague to be assigned their leads until the vacation days are over.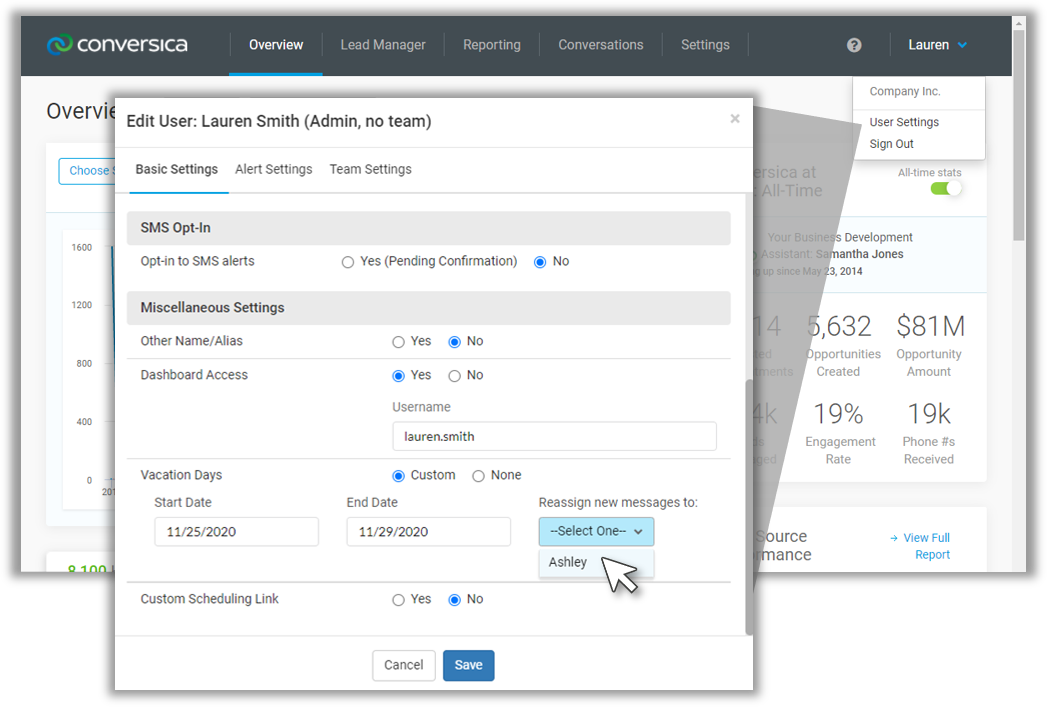 When Conversica receives a lead response or sends a message to a lead, the lead will be reassigned from the vacationing rep to the newly designated rep.

Once the vacation days are over, the normal lead assignment will resume. Leads reassigned during the vacation days will remain assigned to the new user. For step-by-step instructions, check out our How to Set Vacation Days article.