This report will help you see the performance of your conversations, you can do many things including compare them with each other and as well as over time!
What You'll Need
Access to Conversica Reports.

Admins, managers, or users with manager permissions, have access to reporting in the Conversica Dashboard.

For an introduction to Custom Comparisons reports, please see this article on building custom reports.
How to Create the Report
From the Conversica dashboard, select Reporting> Conversations.
Ensure the Date Range Type is set to Submitted Date.
Change the Date Range to your desired time frame.

For example:

Select last 7 days if you want to review a smaller subset of the most recently added leads.
Select last 30 days to see more trends of the last month.

Now, you are ready to review your report!

Default View and Metrics
The default view will be all your conversations for the last 30 days. Change the date range to All Time to see all the conversations this account has ever used.
There are 8 default metrics, to change these metrics, click the drop-down menu and select the ones you want/unselect the ones you don't want. Press apply to see the report change.
We recommend the following metrics:
Attempted Leads
Engaged Leads
Engaged Leads (% of Messaged Leads)
Leads Ever Hot
Leads Ever Hot (% of Messaged Leads)
Leads Opened Tracking Image
Leads Open Tracking Image (% of Leads Sent Tracking Image)
Messaged Leads
To see more details about any bar graph, simply hover your mouse over it. You can also view the leads themselves this way: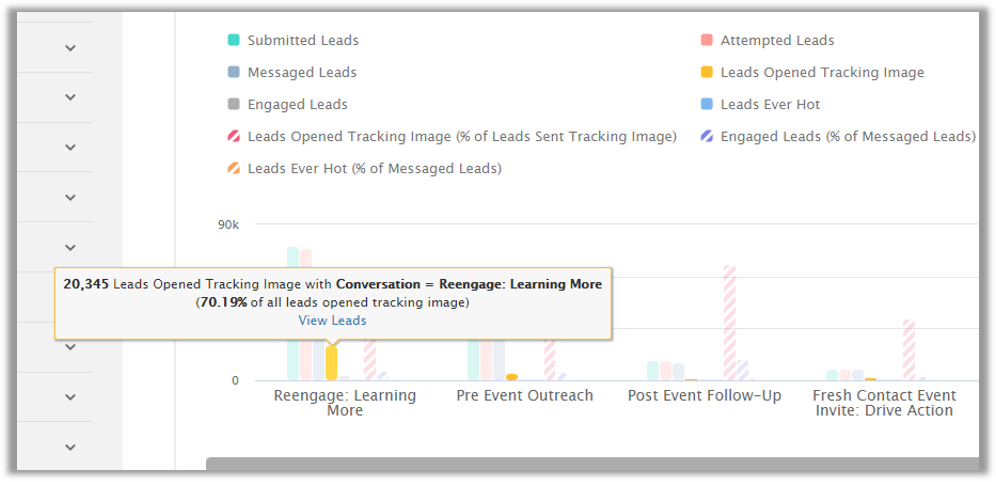 Scroll down to see the detailed list of metrics:


Suggested Frequency to Run this Report
Within the first 7 days of launching a new conversation.
Once a month to see conversation performance trends to compare.