In Conversica's dashboard you can review how your team members are working alongside of your Revenue Digital Assistant™ (RDA). With the metrics you care about most included, the Team Custom Comparison report will help take you further by tracking the performance of your team.
What You'll Need
Access to Conversica Reports.

Admins, managers, or users with manager permissions, have access to reporting in the Conversica Dashboard.
Understanding Team Performance
The way to gauge Team Performance is by two metrics; Satisfied and Further Action.
A lead is Satisfied when the Revenue Digital Assistant has followed up with a Lead that was Hot, and when they ask if they are "all set", the lead implies they were taken care of and have no further questions.
A Lead is marked Further Action, when the RDA follows up two days after they were marked Hot, and the lead implies that either no one contacted them, or the lead may still have additional questions.
For more on Lead Statuses and Alerts, please review our Lead Status Definitions article.
How to Create the Report
From the Conversica dashboard, select Reporting > Teams.
Ensure the Date Range Type is set to Submitted Date.
Change the Date Range to your desired time frame.

For example:

Select last 7 days if you want to review a smaller subset of the most recently added leads.
Select last 30 days to see more trends of the last month.
Now, you are ready to review your report!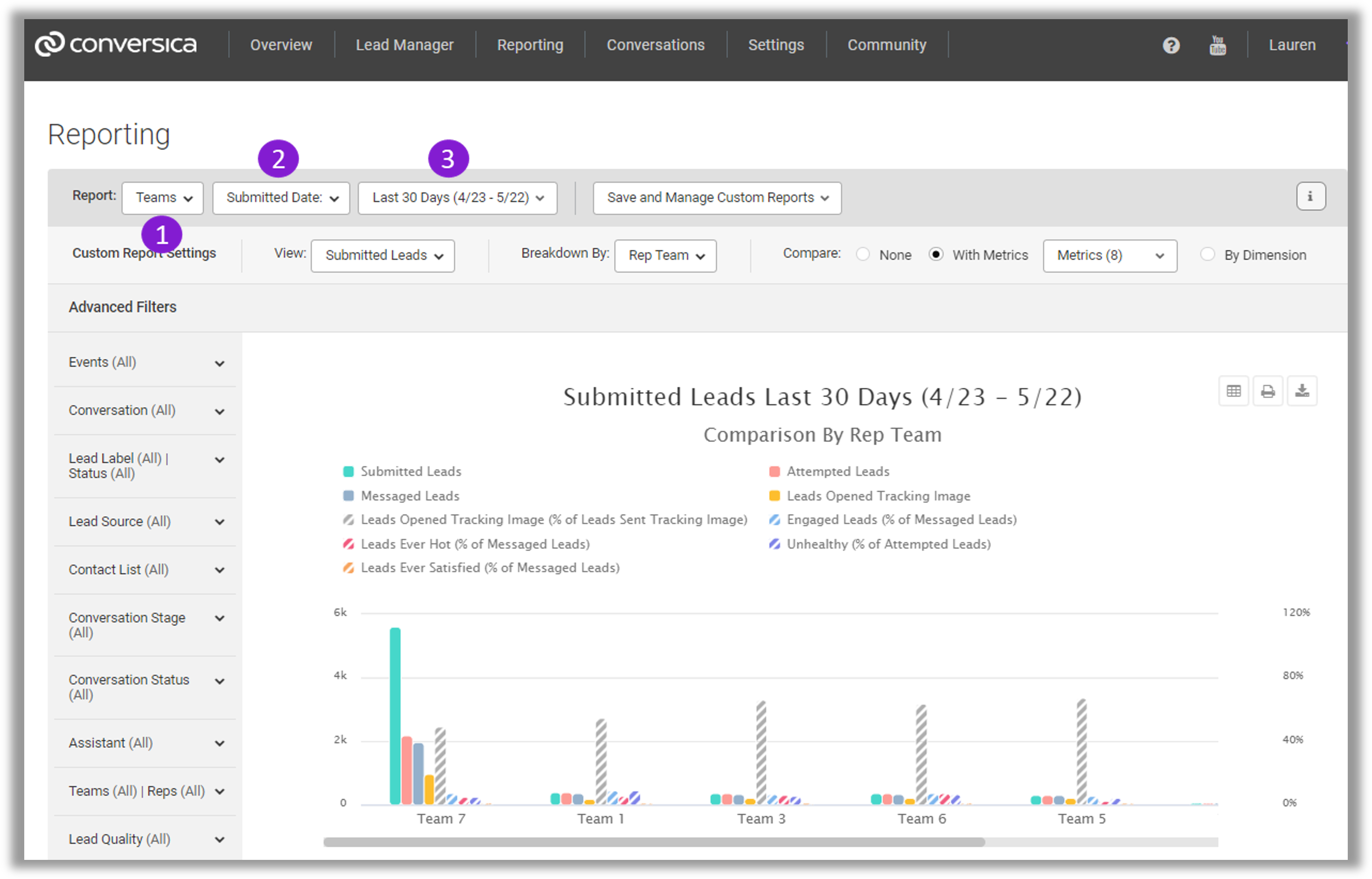 Once you have the report it's time to change the metrics. Select the Metrics drop-down menu and select the following metrics (unselecting any others):
Engaged leads (%of messaged leads)
Leads Ever Hot (%of messaged leads)
Leads ever needing further action( % of Messaged leads)
Leads ever satisfied( %of messaged leads)

Let's look at an example: At this dealership, we will be comparing the Ford, Subaru, and Used Car teams. As we can see below, even though the Ford team has more Further Action leads, they also have a large number of Satisfied leads. Whereas the Used team has more Further Action than Satisfied, this is the team you may want to sync with and identify where the disconnect may be occurring.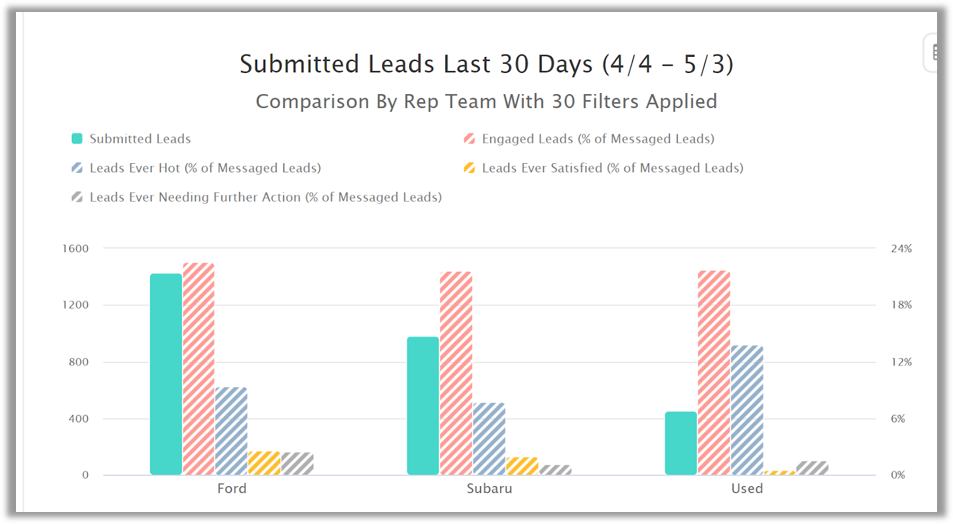 This team's leads are telling the Assistant they still have questions or that no one has talked to them.
Suggested Frequency to Run this Report
Quarterly to keep an eye on the performance of your team.
If you have added a new team or many new team members.
If you have hired new managers.