Welcome to Conversica! With your new Revenue Digital Assistant™ (RDA) you can look forward to more efficient qualification and conversion of your sales and/or service opportunities.
Now that your company's Conversica Admin has added you as a user in Conversica, you'll need to take the following steps to confirm your information and register with Conversica.
1. After your Conversica Admin creates an account for you, you will receive an email to confirm your contact information and successfully log in to Conversica

Note: Your new user registration email will expire after 14 days. If you're unable to register within that time period notify your Conversica Admin so they can re-issue a new registration email for you.
2. Once you open your email, click on the Confirm Your Contact Information button which will take you to the Conversica web site to complete your registration.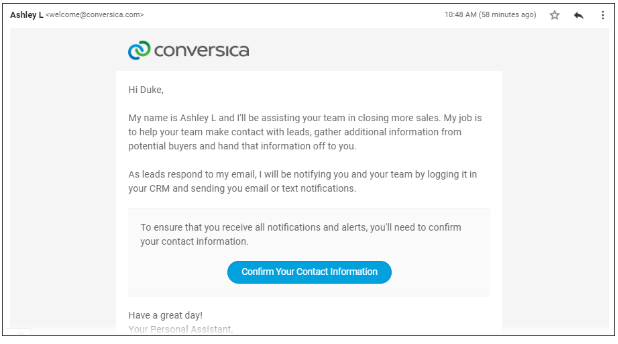 3. From the Confirm User Information page, verify that your contact information is correct and update your Dashboard Login information by selecting a Username and Password. Once you've updated this information, click Submit.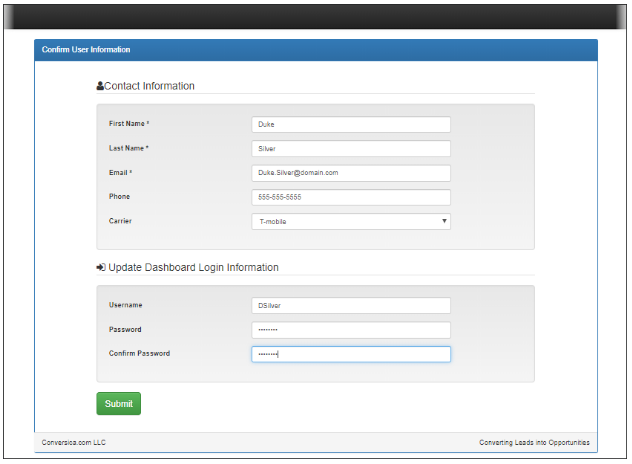 Note: Passwords must be at least 8 characters long, and must include at least one of each of the following:
Special character (i.e. !, *, & %)

4. After you have submitted your Dashboard username and password, you will see the following screen:

Now you're ready to leverage your powerful RDA and the Conversica Dashboard. For more information on how to navigate and personalize your Dashboard experience, access the Conversica Help Center at https://conversica.force.com/helpcenter/s/.