Conversica uses a service called Workato to access the MS Dynamics API, and in order to connect, you need to create a new Registered App in Azure AD. The following settings and permissions need to be set under an application user.

This process consists of two steps:
Step 1: Registering a new Azure registered app that will allow Conversica to talk to the Dynamics instance.
Step 2: Authenticate in our connector using the provided URL, user, and password.


Step 1

1. Navigate/login to Azure AD:
2. Select Azure Active Directory in the Sidebar menu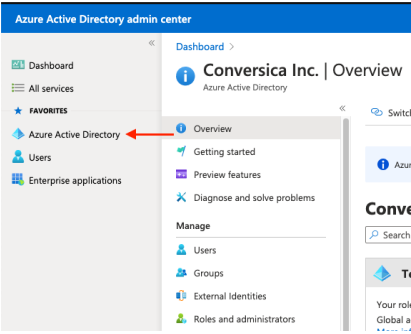 3. Select App Registrations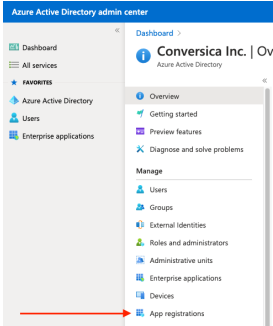 4. Select New registration

5. Fill in fields:
Name: "Conversica"
Supported Account Types: Accounts in this organizational directory only -- Single Tenant
Redirect URI:
6. Once all fields are filled, click "Register"
7. Next, on the Registered App Dashboard, go to "API Permissions"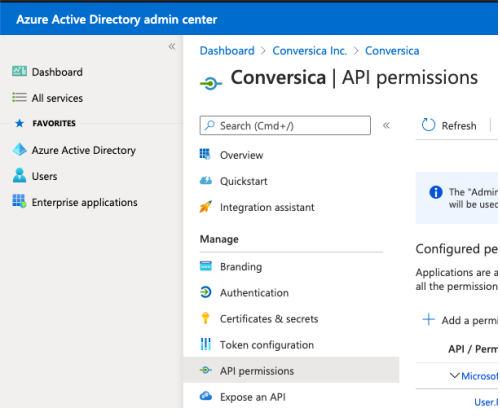 8. Select "Add a permission"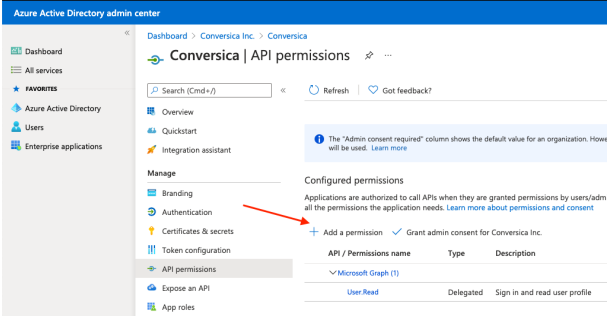 9. Select "Dynamics CRM"
10. Then select the "user_impersonation" permission and click "Add Permissions"
11. After this, we need to create a Client Secret for the Application by going to Certificates & Secrets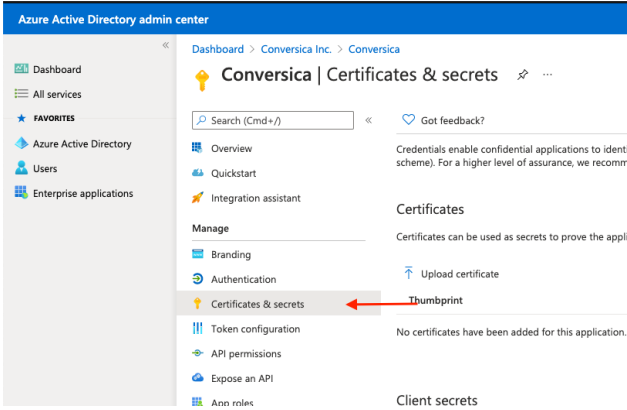 12. Click "New client secret"
Add a description and select when it expires. Note: You will have to generate a new
secret and provide it to Conversica once the original secret expires
Copy the Secret Value. It will be unviewable once you leave the page
*Make sure you are copying the "Secret Value" and not the Secret ID

13. On the Application Overview tab, copy the Application (client) ID: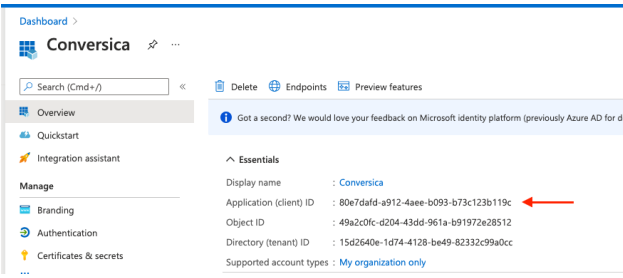 14. Contact your Technical Account Manager and provide them with the:
Object Type (Leads or Contacts)
i. Note: Conversica supports either Lead- or Contact-based Lists for an account,
not both



Step 2


1. Navigate to the following link: https://crmauth.conversica.com/ui/index.html
2. Input the username and password that we have provided inside the communication email.
If you need this please reach out to your Technical Account Manager.

3. Fill in your Dynamics connection details:
Authentication Type: Authorization code grant.
Subdomain: Your Dynamics domain (make sure there is no extra / at the end of the URL or https:// at the start).
Account Type: Cloud.
ClientID: The application (client) ID of your Azure registered app.
Note: You can find the client ID inside your Azure registered app that is handling your Dynamics Instance.

Client Secret (Secret Value not Secret ID)
Version: Select Enter custom value from the dropdown and input 9.2 as the value.
Advanced Settings: Do not modify anything here.
4. Click Sign in with Microsoft and follow Microsoft instructions. 
5. Verify that you receive a connection success status.