The Conversica Lead Manager is your central database to manage leads in Conversica's dashboard. To help improve your experience in reviewing and managing leads, we have created new filters and features for the Lead Manager.


How to Access
To access the Lead Manager Beta, from the dashboard simply hover over Lead Manager and select Lead Manager (beta) from the drop-down.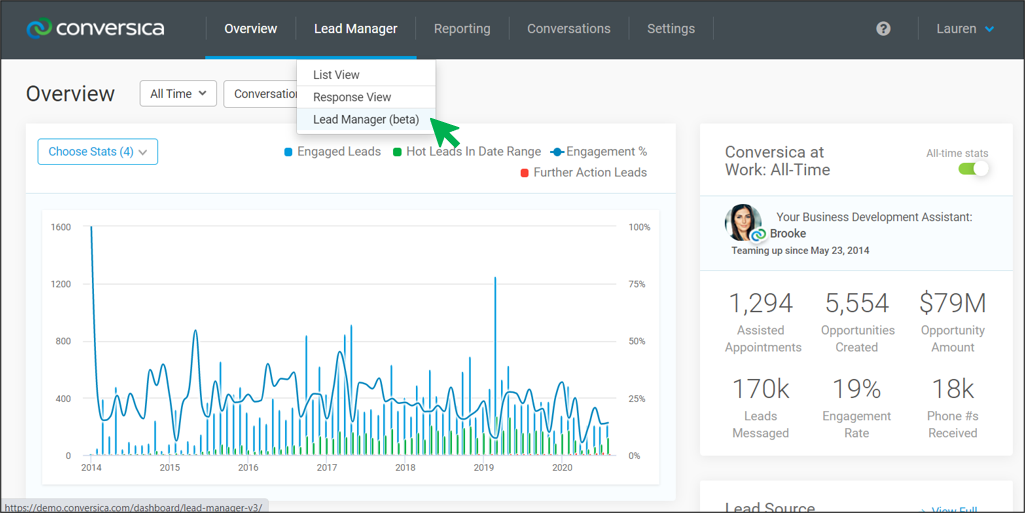 New Beta Features
The new Lead Manager has been redesigned for consistency with the sleek beta reporting pages.
Click the refresh button to pull in the latest data without having to reload the entire webpage.
The Search box can now find partial text strings within lead Notes, email address, first name, last name, lead ID, or phone number
We have added new basic filters that allow you to sort and organize your data in new ways.
To drill down your data further to fit your specific parameters, use the updated Advanced filters.
Filters now support searching, making it easier to find items in long lists.
Response View includes the same filter and search capabilities as the List View (as shown below).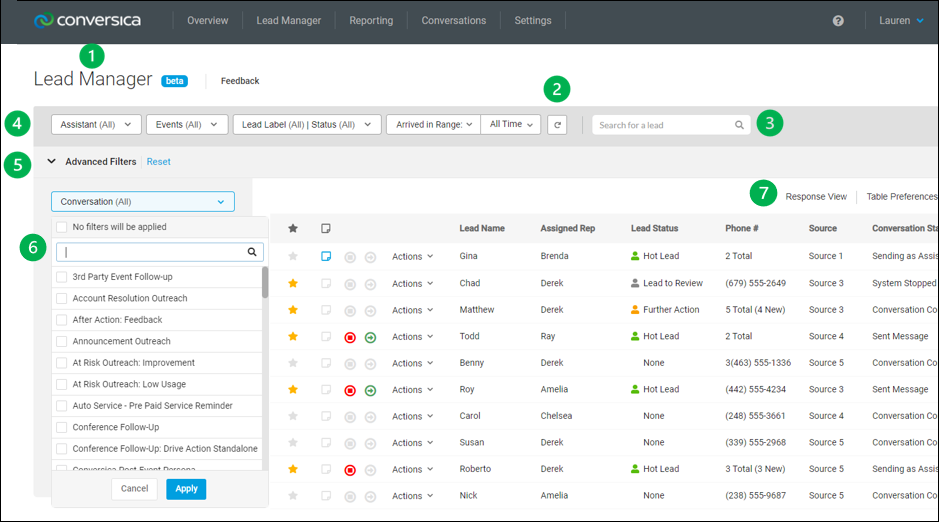 Basic Filters
Utilize filters to quickly locate leads that meet your specifications.

Filter
Definition
Assistant
Do you have multiple Revenue Digital Assistants

™

? Use the Assistant Name filter to only see leads assigned to or worked by a specific assistant.
Events
This filter allows you to find leads based on various events that occurred throughout the lead's conversation.
Lead Label | Status
Use this filter to find leads that are a particular Lead Status.
Date Range Type
Specify which types of dates to use in the Date Range filter. For example, you could find contacts based on when they arrived, when they responded and more.
Date Range
Filter all activity that occurred within a specific date range. Two new date ranges have been added: Last 365 Days and Previous Year
Advanced Filters
To provide even more reporting options, we have added a variety of new advanced filter options using the same key data found in our new reports.

Advanced Filter
Definition
Conversation
Filter leads by the conversation in which they were engaged.
Current Communication Channel
Filter leads by the communication medium Conversica is currently using.
Lead Source
Filter leads using the source by which they were uploaded/added to Conversica.
Salesforce Campaign*
Filter leads by those that have been applied to a Salesforce Campaign.

*Applicable to Salesforce integration.
Conversation Stage
Filter by the Conversation Stage. This includes conversations that are currently messaging, stopped, or excluded.
Conversation Status
Filter leads by the current conversation status. Refer to Lead Status Definitions for more information.
Teams | Reps
Filter leads by Teams or by specific reps. You may select more than one team or rep at a time.

Note: If you are assigned to monitor a Team, this filter defaults to the team(s) that you monitor. You may filter to other teams by making additional selections within this filter.
Lead Quality
Filter by the identified quality of the lead. For example: healthy, discarded, preparing, unhealthy, or none.
Opportunity Stage*
Filter by leads within a selected opportunity stage. For example: closed won, closed lost, verbal agreement etc.

*For accounts with Opportunities.
Opportunity Status*
Filter by potential opportunity status.

*For accounts with Opportunities.
Provide Beta Feedback
Your feedback is key to the success of our product beta and we would love to hear from you.

To provide feedback, click the Feedback button to pass along suggestions and comments to our team.