knowledge center
Top Suggestion



Alert Settings gives you the ability to manage email and text alert settings for your team in Conversica's dashboard. Alert Settings can be modified by subject or user. This allows you easily to control how users receive alerts from your assistant.
User Permissions Needed
To modify a user's alert settings: Manager or Administrator role
Opt-in/Opt-out Permissions
Users with Manager and Admin profiles can be opt-in or out of all alert types.

Users with profiles based on Admin roles can opt-in or out users of any type for all alert types.

Users with Rep Profiles:

Can not opt-out by themselves from actionable responses (Hot, Lead at Risk, and Lead to Review) or the Daily Digests. We've ensured the assigned representative will always receive actionable response alerts.
Can opt-in or out to all other alert types by themselves.
Alert Methods
Conversica offers three methods to send alerts. Each delivery method is available to all users.

| | |
| --- | --- |
| Alert | Description |
| Email | Individual lead response or general alerts sent via email to the email address in the user's profile. |
| SMS | Individual lead response or general alerts sent via text to the mobile number in the user's profile. |
| Daily Digest | Daily email summaries listing the prior day's Hot Leads, Leads at Risk, and Leads to Review. |
Conversica Alert Types
Below is a complete list of Conversica alert types that any user who works or manages those who work leads may receive from the Conversica Revenue Digital Assistant™.

Lead Status Alerts: Notifies you when the assistant has assigned a status to a lead

Hot Lead*
Lead has expressed interest and is ready for contact
Lead at Risk*
Lead was hot and has indicated they were not contacted by the Rep
Lead to Review*
Lead response needs to be reviewed by the Rep (e.g., lead has asked a specific question or made a request)
Further Action**
Lead was hot has indicated they require further assistance
Disqualified*
Lead is no longer interested or is the wrong contact
Assistant Insight Alerts: Alerts you to information found in the lead's response
Continue Messaging*
Lead that the assistant will continue messaging, but lead is not yet hot
Messaging Complete
Lead was hot and has indicated they spoke with a rep
Do Not Contact*
Lead requested to not receive any communication from your organization
Stopped Messaging
Lead says they are not interested or have already talked to a rep
Check Back Later
Lead responded with interest in being contacted at a quantifiable time in the future
Out of Office
Lead responded with an automated out-of-office reply including a quantifiable day when the lead will be available
General Alerts: The assistant notifies you about general events
New Leads
A new lead has been assigned to a Rep
Rep Reassignment
A lead has been reassigned to a different Rep
Replied as Assistant
When a user has replied as the assistant to a lead
Reply as Assistant - Lead Response*
When a lead responds to a Replied as Assistant message from a user
Weekly Team Performance ***
Weekly sales Rep report (delivered on Wednesday mornings) you can leverage to identify trends in your team's performance. Includes New Leads, Leads Worked, Hot Leads and Leads at Risk metrics for each representative.
* default alerts
** default alert currently used by Revenue Digital Assistant for Automotive Sales customers
** alert type is only sent to those with a Manager or Admin role
Default Alerts
Default alerts are alert types recommended by Conversica. These alert types ensure that each user can stay in the loop with their assistant's conversations and lead activity. New users are automatically set to opt-in for default alerts.
Configure Alerts by Alert Type
When to Use:
When you first set up your alert preferences to ensure all Reps and Managers receive the same alerts.
How to Get There:
Navigate to

Settings

>

Alerts
Select the alert subject and click

Settings
Select the user type (Rep, Manager, etc.) from the drop-down menu
Select or deselect which users will receive this type of alert
Click

Save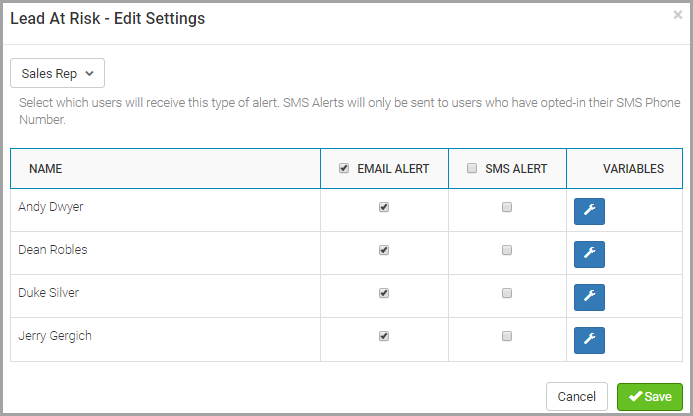 Configure Alerts by User
When to Use:
When adding a new Rep or Manager or when a single user needs their settings adjusted.
How to Get There:
Navigate to

Settings

>

Users, Profiles & Teams
Select a user and click

Edit. The Edit User window will appear
Click Alert Settings
Expand Lead Status Alerts, Assistant Insight Alerts or

General Alerts and edit the email and mobile alerts for your users as well as the Daily Digest
If the user is a Manager or Admin you can choose the alerts they receive as well as for which users by making selections under Receive Alerts for Users You Manage
Note: Click Revert to Default to restore the default alert settings for the user
Click

Save.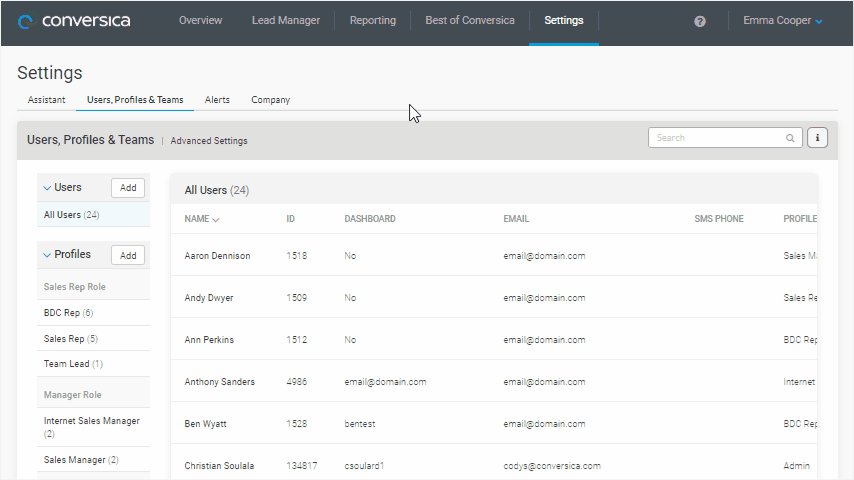 SMS Box Eligibility
The option to select or deselect SMS alert delivery when customizing alert settings is dependent upon a user being opt-in to SMS alerts. If the user was not opt-in for SMS alerts, the SMS box will not be viewable when customizing alerts.