This article addresses how to edit the settings of other users.

If you manage a team you can edit the user settings of the team members you oversee, and users who have been assigned a profile which has been granted Manage All Users: Edit can edit all users in the organization.
Click Settings > Users, Profiles & Teams.
To locate a specific user, search by name or email. You can also find users on the All Users list or from the user list associated with any profile.
Hover over the user and click Edit.
Revise or complete the user's Basic Settings. For full descriptions of the fields and settings click here.
Customize the user's alerts by clicking Alert Settings and making selections.
If the user is an admin or manager, click Team Settings and select or change which teams this user should manage.
Click Save.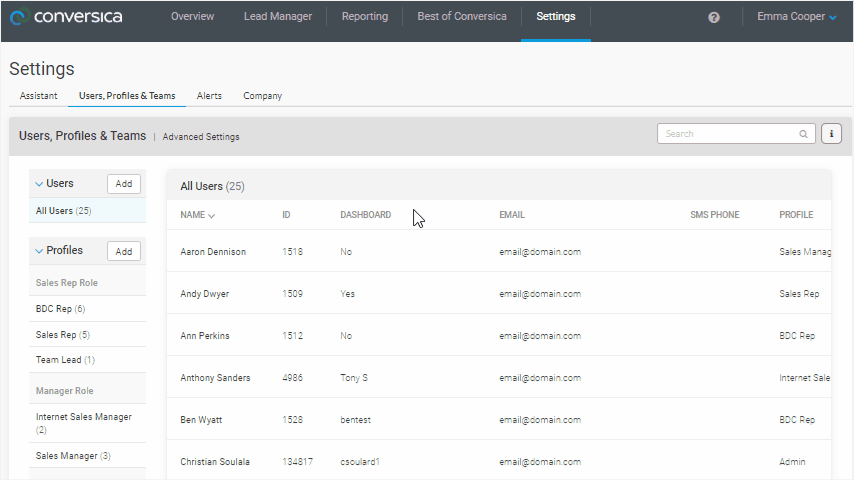 User Field Descriptions
Field
Description
First Name (required)
Enter the user's first name as it appears in your CRM or integrated system.
Last Name (required)
Enter the user's last name as it appears in your CRM or integrated system.
Messaging Name
Enter the name of the user as you want it to appear in your Assistant's messages to leads/customers. Please note this field has a limit of 50 characters.
Title
Enter the user's job title here.
Email
Enter the email address where you want the user to receive email alerts from Conversica.
Phone Number
Enter the mobile number where you want the user to receive mobile (text) alerts from Conversica.
Team
Select a Team to assign a Team for this user. Click here to refer to more information on Teams.
Profile
Select the type of profile you want this user to have. The profile controls the user's permissions within Conversica.

*This can only be edited by users with Manage All Users permissions.
Status
Pick the status you want to apply to this user (Active, Inactive).
​​​​
Miscellaneous Settings
Misc. Setting
Description
Other Name / Alias
Click Yes and enter an alias if the user has a different name in your CRM or integrated system.

The user's First Name and Last Name or the Other Name/Alias field must match the name of the user as it appears in your integrated system. This is required in order for rep assignment to work properly between Conversica and your integrated system.

Dashboard Access
Click Yes if you want the user to have access to Conversica's dashboard.
Vacation Days
Click Yes to set vacation days for the user. Refer to How to Add Vacation Days for more information on this feature.
Custom Signature
Optional: Click Yes and enter a custom signature for the user.

Using a Custom Signature will change the fields in your Revenue Digital Assistant's

™

signature whenever leads or customers assigned to this user are messaged.