Dashboard
knowledge center
Conversica's dashboard gives you the information you need to track and monitor your overall success with your Revenue Digital Assistant™. With snapshots, reports, and lists you can see how your assistant, leads, sources, and reps are performing all in one place.

The dashboard is organized into several key sections: Overview, Lead Manager, Reporting, Settings. Read on to learn more about each section.

User Permissions Needed
To view Conversica's dashboard: All roles must have Dashboard Access enabled to view Conversica's dashboard.
Overview
The Overview shows you a quick summary of how your assistant is interacting with your leads or customers. You can monitor your assistant's activity, overall source performance, and salesperson performance, as well as see your recent Hot Leads, Leads to Review and Leads at Risk. Managers and Admin profiles will have full visibility and metrics, while reps will be able to view their assigned leads.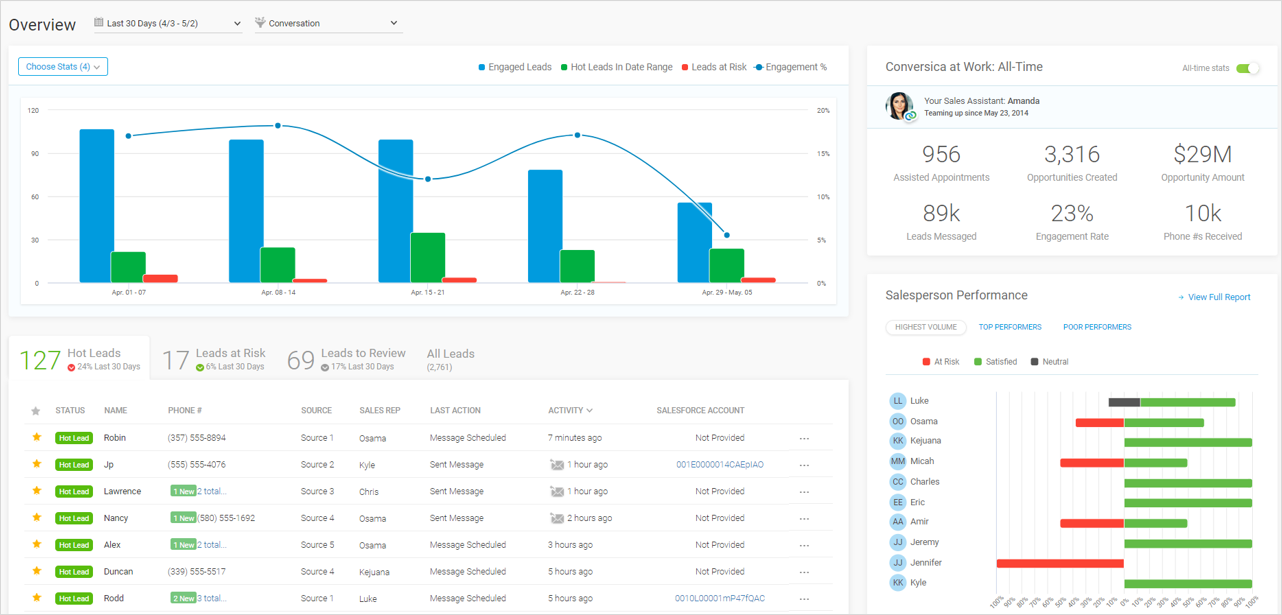 Lead Manager
Lead Manager allows you to see what is happening with each of your leads or customers. You can monitor your leads' status and progress and see which requires your attention. You can view your leads in "List View" or "Response View". You can search by individual leads, or use a multitude of filters to find the leads you are looking for. All leads will be available to view by Admin, Manager, and Enhanced Rep profiles, while standard rep profiles will show only the leads assigned to that rep.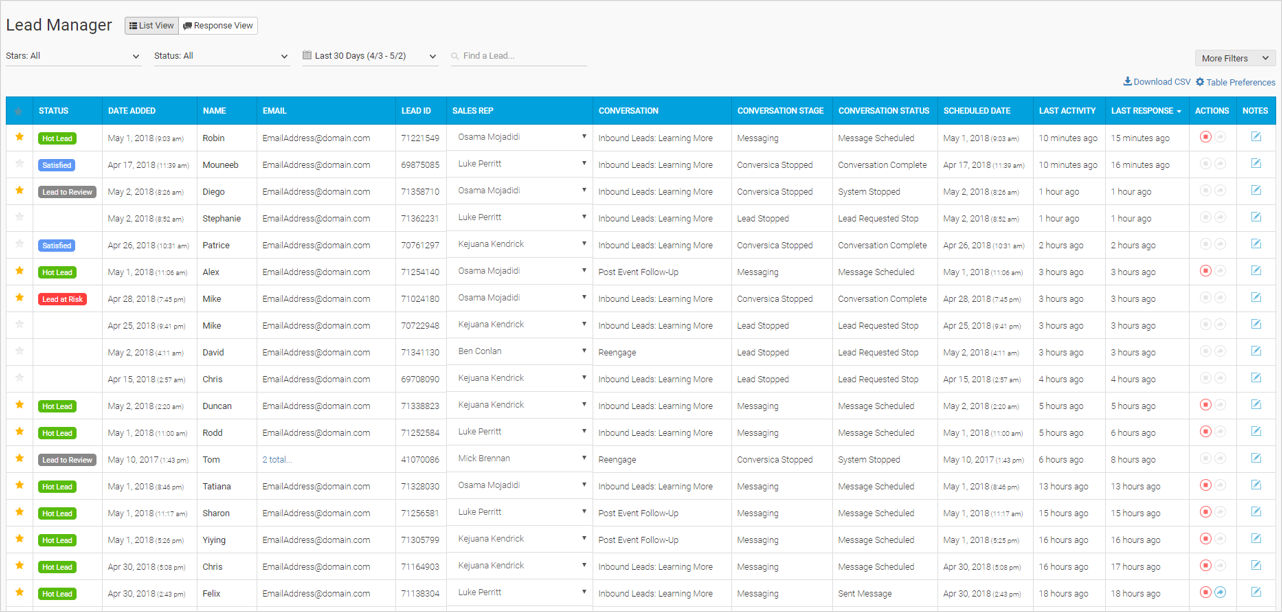 If you use the Revenue Digital Assistant for Automotive Service, you will have access to the same functionality and benefits on the Customer Manager tab.

Refer to Lead Manager for complete details on this feature and make sure to check out our new Lead Manager experience currently in beta testing.

Reporting
Reporting gives you access to reports that show you how your assistant, leads or customers, sources, and reps are performing. You can view reporting using snapshot and trend-based charts and reports, or you can make your own custom report.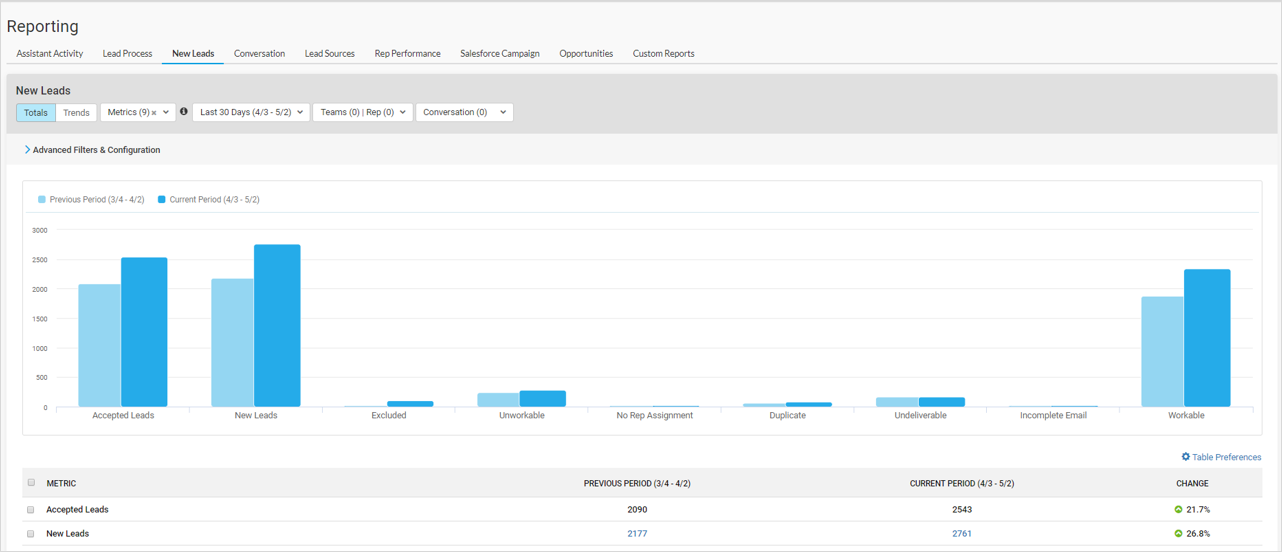 For more information on reporting, please see Reporting. Conversica is releasing a series of new reports as part of an open beta testing period. You are invited to preview these reports and provide us your feedback about what you like and don't like so that we can evolve these reports to meet your needs!


Settings
Settings are where you can manage the alerts, team permissions, assistant, user, and company settings for your account. From Settings, you can adjust how your assistant works with your team and how you will be alerted when leads respond, as well as make any needed updates to your team, such as adding and removing users. Reps will only be able to view their own user settings.





For details on specific settings, please see Team Settings, Assistant Settings, User Settings, and Configure Company Settings for more information.
Help Center Widget
This tool allows you to access the most commonly used Help Center articles right from your Conversica Dashboard. You can quickly find answers to some of the most frequently asked questions, all from a single platform.
Nestled in the bottom left-hand corner of your Conversica Dashboard, simply click the icon to open up the Help Center Widget.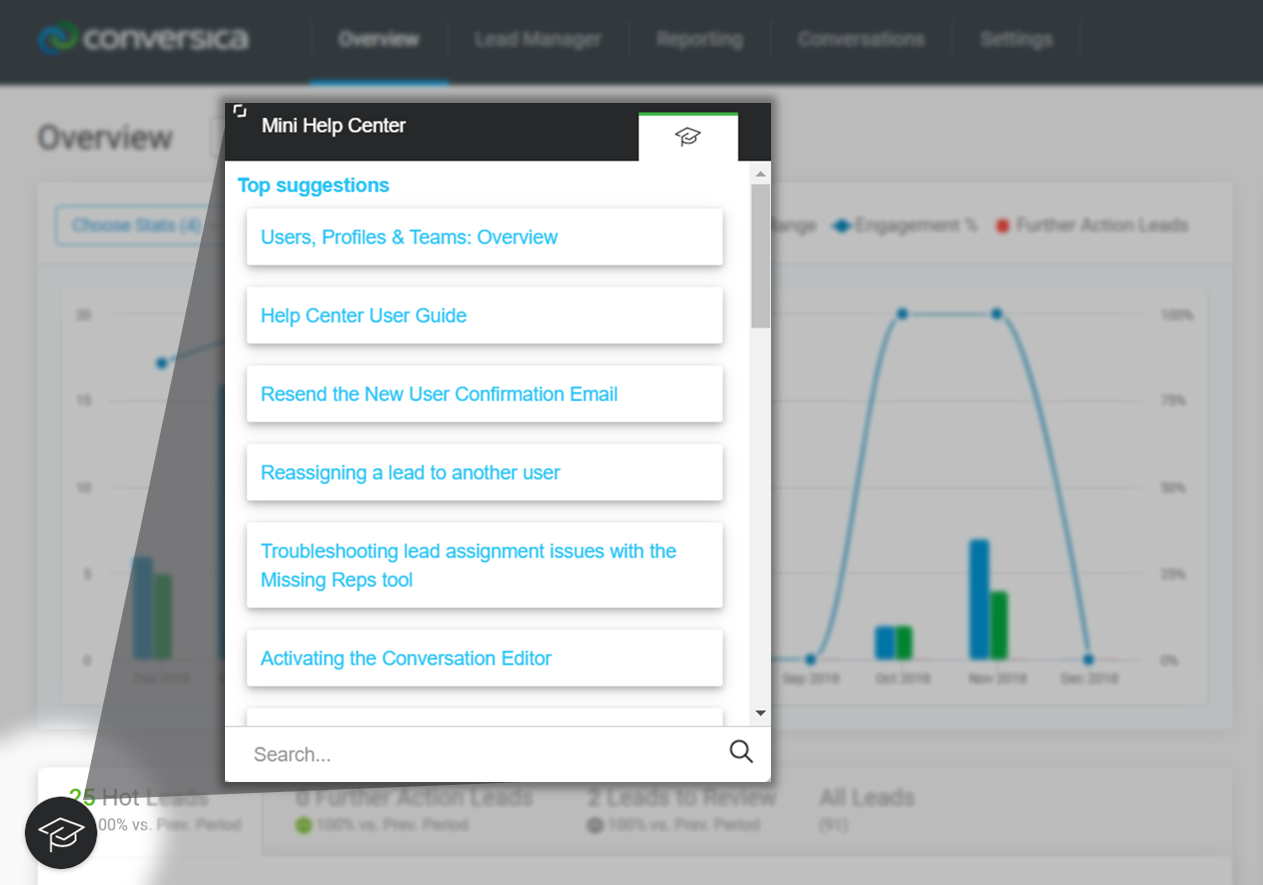 To learn more about how to use the Help Center Widget, review our Help Center User Guide for more details.
FAQ
Q: I'm receiving an error message when trying to log in/view information on my dashboard. What do I do?

A: The first thing that you should try is clearing your cache and cookies. In Google Chrome, Conversica's preferred browser, pressing Control+Shift+Delete will open a new tab and bring up the settings to clear your cache and cookies.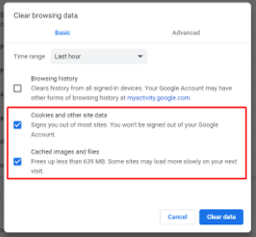 Once you've cleared your cache and cookies, log out of your dashboard (if applicable), refresh your page, and log back in.

If you have cleared your cache and cookies and the error is still occurring, contact Conversica's Technical Support Team at support@conversica.com or 650-290-7674.