Conversation Editor
Editing Conversations
While your AI-powered assistant's conversations come with fully built messages, ready to engage with your leads, there may be times where you want to add customizations. When you have an upcoming event or want to tailor your message for a specific audience or product, you can edit a conversation's custom fields to meet your unique use case.

The Conversation Editor is designed to grant you greater control and visibility over the conversations your Assistant utilizes and allows you to tailor your conversations efficiently right from the Conversica Dashboard.
Here's an example:
Imagine you want to follow up with contacts that have recently expressed interest and requested communication online. Your assistant will message your leads, driving for a call with a representative, but you want to add some additional information. With the Conversation Editor, you can customize the following variables in the assistant's message.
Default Message: The highlighted portions in the example message correspond to the color of the dynamic field on the right.

To communicate more details about your product or company, customize the rep role title, and add a statement to offer additional background information as to why you are reaching out, customize these fields to make it your own.

Customized Message:

How to Customize your Conversations
From the Conversica Dashboard, click Conversations.

To access the Conversation Editor you must be granted access by an Admin or a Manager with Admin access. For more information review this article.

Select a Conversation to edit.


To select a specific Campaign or Contact List, click the Contact list drop-down.
Select the desired Campaign /Contact list.

Hover over the Assistant's message and click Review/Edit to open the Messaging View.




Choose a dynamic field to customize.

Hover over the title of a custom field to see the definition and best practices.

The dynamic fields that are available to be customized will differ depending on the conversation being edited.

Dynamics fields include but are not limited to:

Conversation Starters
Informational Statements
Links
Organization Description
Pronouns
and Scheduling Links

Enter your desired text.

When editing variables, you will receive an error message if you:

Exceed the character limit
Enter additional questions into variable values.
Add a link to default values.
Use spam trigger words.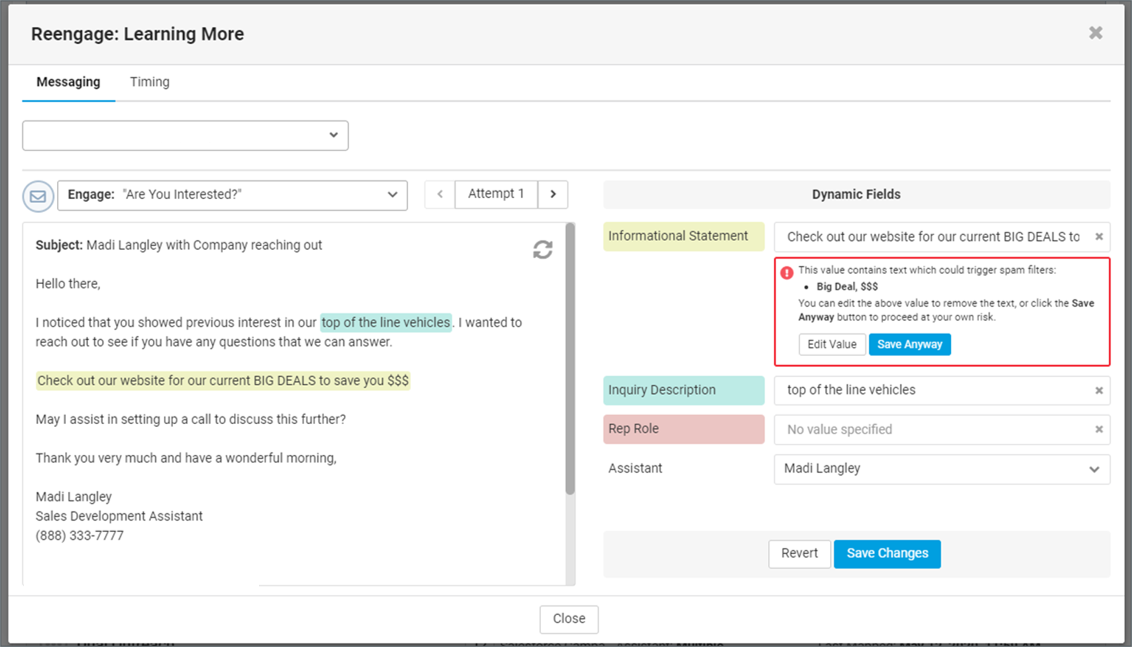 Tip: Once you have filled out the variables in the first messaging attempt, check through later attempts to make sure the variables will fit those messages as well.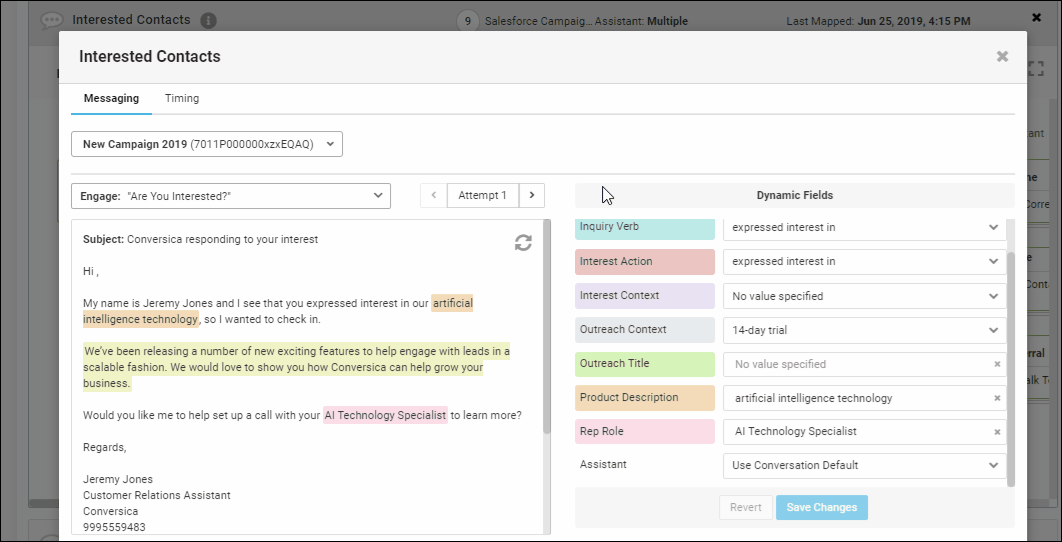 6. When you are satisfied with the resulting message, click Save Changes.
Once saved, your customizations are displayed in the example message. If you edit a value you already inputted, you will see future changes in real-time.